No startup is born without a good story, but in today's competitive landscape, programs like Hubspot for Startups can be the difference between a compelling rags-to-riches story or a tale that falls flat.
In order to succeed as a startup, you need to be able to scale. The only way to do this properly - and not fall victim to the competition - is to equip yourself with cutting-edge marketing automation, lead nurturing tools, powerful analytics, an intuitive website, and content that resonates with and engages your audience.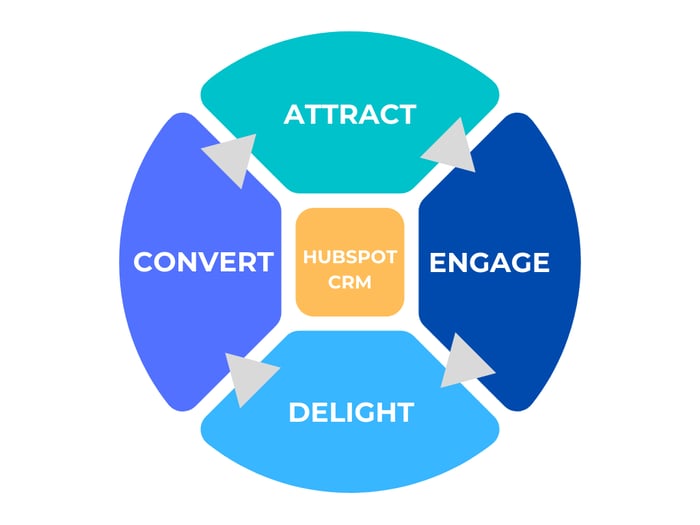 Image source: Incisive Edge
As we all know, there are tons of user-friendly inbound marketing and sales tools out there, so what makes HubSpot such a top contender? And why is Hubspot for Startups such a great program?
We've rounded up 6 great benefits of Hubspot for Startups, so let's start off with everyone's top concern: cost.
1. Hubspot Pricing for Startups is Affordable
You need a powerful sales and marketing platform to help in driving growth, generating leads, and building customer relationships. Tools like these can be expensive and can seem out of reach for a new business, which is why the discounted Hubspot for Startups program is so desirable.
If you've been using the free version of HubSpot for a while, chances are you've seen something you like and will need to upgrade as your business grows. But not every business is ready for that kind of investment.
Without the benefits of HubSpot for Startups, HubSpot's Marketing Hub™ pricing starts at £655 per month at the Professional level, Sales Hub Professional at £369 per month and Service Hub Pro at £297 per month. However, if you qualify for the Startup program, you could pay as little as 10% of the full pricing.
For a full rundown of the products you might be interested in, take a look at their pricing page. There's a lot on offer, for businesses of every size and scope.
Your startup fee is determined by where you are in your funding journey and whether you have an association with a partner from HubSpot's approved list.
A startup with under $2 million in funding is eligible for up to 90% off HubSpot software in your first year, 50% off in your second year, and 25% off ongoing.
A startup who has raised over $2 million in named funding up to and including Series A is eligible for up to 50% off in your first year, and 25% off ongoing.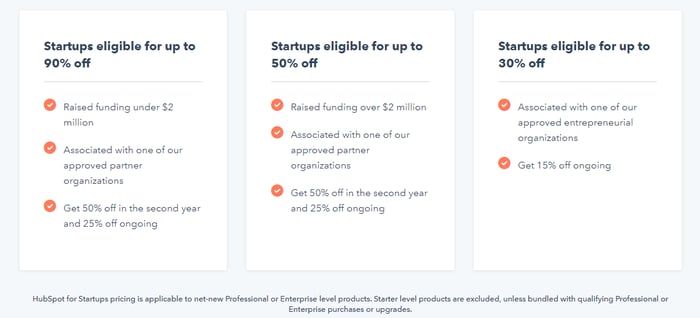 2. World-Class Onboarding, Training, and Round-the-Clock Support
HubSpot for Startups gives businesses immense value; offering them access to a host of impressive tools that they might otherwise not be able to afford.
Advanced tools like these can be challenging to use, at first. So it makes sense that HubSpot would offer a stellar onboarding program.
The £245 it costs to access the onboarding service is more than worth it. You'll get access to a team of specialists for guidance, technical assistance, and all the 24/7 support you need to navigate the platform like a pro.
This 30-day onboarding educates users on how to develop a long-term growth strategy for their business, and how to implement that strategy through the HubSpot platform.
3. Get Access to Training From the Hubspot Academy Team
HubSpot has done an amazing job of developing an in-depth and detailed selection of training materials that address all your sales and marketing needs.
The HubSpot Academy team has cherry-picked certification courses, documentation, and training programs tailored specifically to startups that are focused on growing and scaling their business in a highly competitive landscape.
All of these training resources are of the highest quality, and they are frequently updated. So, you'll not only be able to hit the ground running, but you'll be able to continually expand your knowledge.
4. The Hubspot for Startups Program Can Grow with Your Company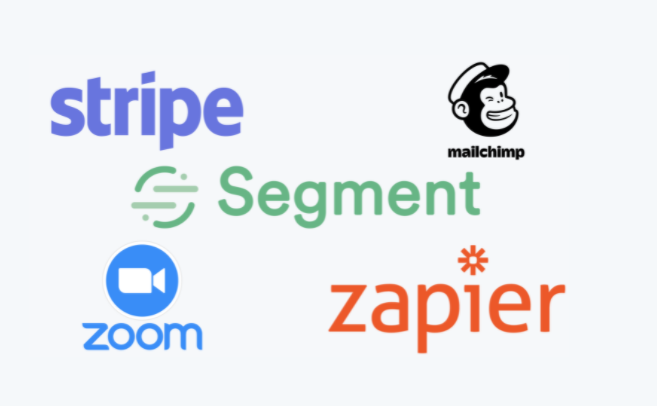 What makes HubSpot such a powerful platform is that it can grow with your company. You can start on a lower subscription level and upgrade to something more robust as your needs evolve.
You can't outgrow HubSpot - this platform is in it for the long run.
As your team grows and your budget increases, you'll know that it's time for an upgrade when you start butting your head against capacity limits and it becomes cheaper to upgrade. You might also realise that there are some seriously desirable features that would really help a larger team to maximise their strategy and execution.
Additionally, HubSpot offers more than 500 integrations with other platforms. So, you can grow with tools outside of the platform and have external information and platforms feed into HubSpot as well.
5. HubSpot CRM Has Amazing Lead Generation Tools
When you're focused on attracting and converting strangers into prospective customers, you can't waste your time with ineffective tools that leave gaps in your process.
There are several ways through which your startup can generate leads - like email, social media, blogs, referrals, advertisements, and unique marketing content. HubSpot unites all of these channels under one roof, giving you a better chance of increasing the number of visitors that can become potential leads and fill your pipeline.
With all your lead generation tools united on one platform, less time is wasted on bottlenecks in your process.
Time is money, and as a startup, you can't afford to waste any of it.
6. Effective Marketing Automation for Startups
If your aim is to offer your product, service or solution to a larger audience, you need a smart way to broaden your communicative horizons.
As a startup, you may not be looking to expand your employee base just yet. A solid automation system however, will replace those repetitive, manual marketing processes and enable you to manage emails and social media accounts without any fuss (or major expense).
HubSpot brings all of your marketing tasks under one dashboard, enabling you to create a personalised user experience.
HubSpot's marketing automation also helps to eliminate errors like forgetting to reply to a customer's enquiry or double-booking an appointment. Essentially, you have everything you need to entice prospects further down your pipeline or to convert one-off clients into loyal, repeat customers – your brand advocates.
Is HubSpot Right for You?
HubSpot has a ton of great tools to offer startups, no matter what stage of growth you might be at. If you're ready to start strategizing and implementing sales, inbound marketing, and customer service processes, it's a platform that's definitely worth looking into.
Before you commit though, you'll want to make sure that you and your team are ready for it. If you're not quite at the right stage of growth just yet, that doesn't mean you won't be in the near future.
At the HubSpot for pricing though, the outlay is so small in the first year, that it's worth giving it a go.
Incisive Edge is a specialist in HubSpot and HubSpot for Startups. All HubSpot for Startup licences signed though Incisive Edge receive free access to our onboarding portal. Onboard quickly and easily with step by step implementation through our portal.