Around 75% of businesses use HubSpot or some other form of marketing automation software in their bid to compete with more established brands.
As a small business owner, is this something you should consider too?
Getting a new business off the ground is challenging, terrifying, and exhilarating all the same time. During the first few years, you'll spend most of your waking hours on your infant company - pouring every ounce of your energy into making it a success.
After a while, when the honeymoon phase is over, this dedication can begin to wane and progress can stall or plateau.
This is why approximately only half of the new startups in the world make it past the 5-year mark.
In order to survive, many small businesses turn to technology to see them through. CRM Software like HubSpot gives them the firepower they need to reduce manual effort, increase customer satisfaction, and supercharge their marketing efforts.
HubSpot Pricing: Free vs Paid
The Free CRM
What makes HubSpot so great for small businesses is the fact that their free plan can help you test the waters before making any financial commitment. As it provides not only sales tools and workflow automation features but it allows you to efficiently manage customer data.
According to HubSpot, their free CRM (customer relationship management) tools will always be free to use. So you can add unlimited users from your marketing and sales teams until the end of time.
The free version of HubSpot CRM includes:
The ability to store and track sales deals
Integration with Gmail or Outlook
Limited sales productivity tools (email scheduling and meeting scheduling)
Lead capture forms (with HubSpot branding) for use on your website
These features offer small businesses a great starting point for their inbound marketing efforts but there is a limit to what you can do with these tools. Eventually, you'll need to upgrade. Hubspot allows you to integrate its features into pretty much every relevant department. From your sales team to your SEO team, everyone will benefit from this CRM System.
The Paid Version(s)
When you're ready to take your sales and marketing processes to the next level, there are Starter, Professional and Enterprise tools available to you.
The Starter license is $50/month, but if you're aiming for any real growth, it probably doesn't have all the tools you need.
HubSpot Professional helps you shift towards effective marketing automation, landing pages, email marketing tools, social media management, and blog and SEO management.
These features allow you to fine-tune your content management and lead nurturing processes so that you can scale up quickly.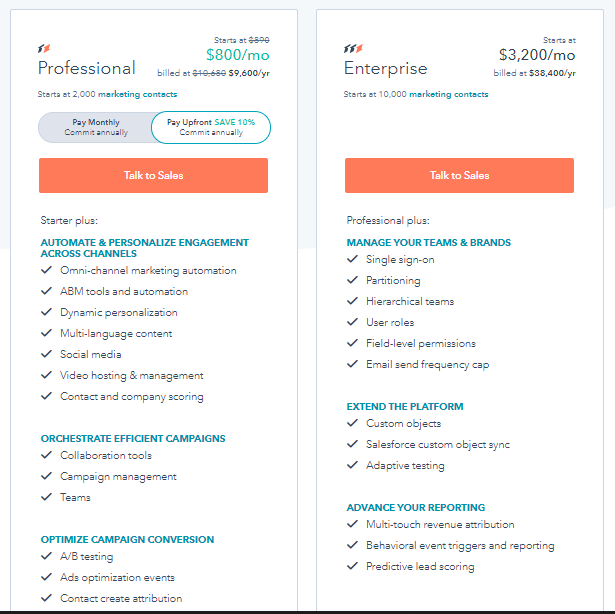 Image Source: HubSpot
The Hubspot marketing hub and Hubspot sales feature include solutions that will pay themselves overtime. Whilst HubSpot's inbound marketing tools don't come cheap, they are, worth every penny - although they might represent a huge commitment for your business.

So, is there a way to reduce the cost?
HubSpot For Startups: An Opportunity to Cut Costs
Hubspot for Startups is a special program for startup businesses that are members or alumni of more than 2,000 approved HubSpot for Startup Partners.
As part of this program, startups can earn discounts of up to 90% on HubSpot subscriptions and gain access to a range of helpful startup-specific resources.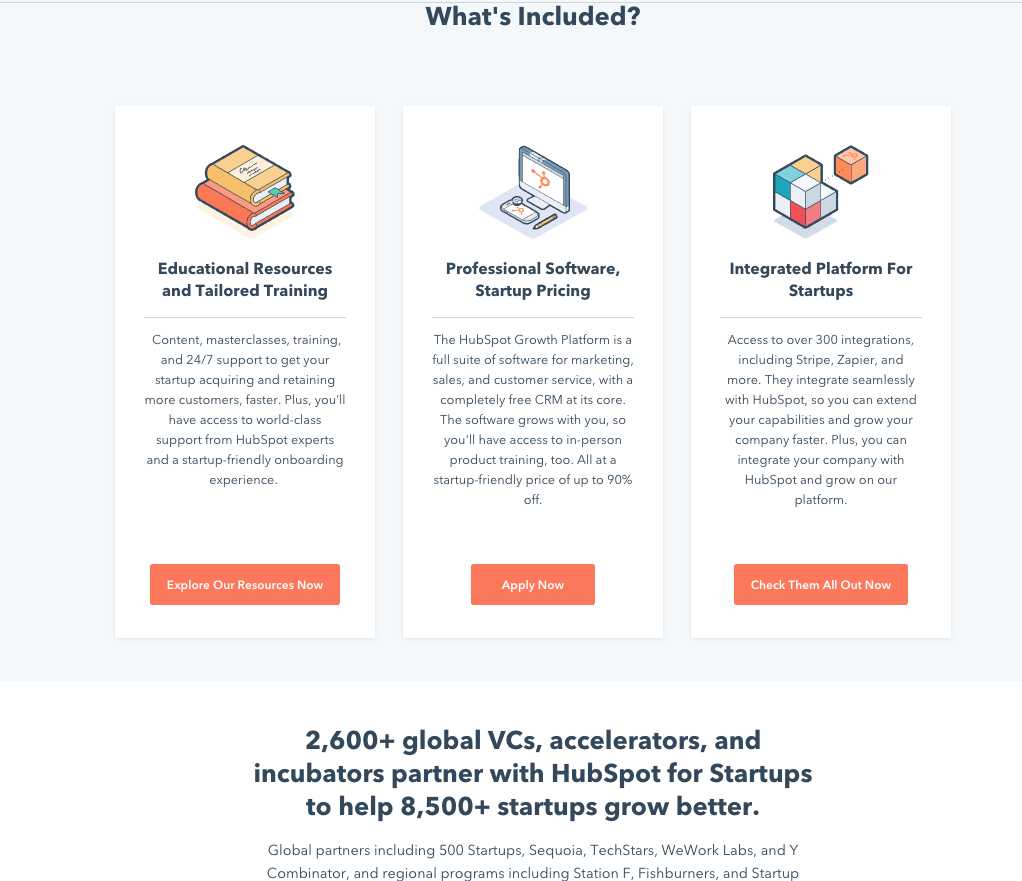 Image Source: Hubspot
A startup with under $2 million in funding is eligible for up to 90% off HubSpot software in your first year, 50% off in your second year, and 25% off ongoing.
A startup who has raised over $2 million in named funding up to and including Series A is eligible for up to 50% off in your first year, and 25% off ongoing.
And if you want to apply, just click on the HubSpot for Start Up Application Form and get going!
The important point to note is that HubSpot grows with your company. You can start on a lower subscription level and upgrade to something more robust as your needs change.
It's not only about the features, though. HubSpot for Startups aims to assist small businesses in learning the ropes and expanding their knowledge base.
HubSpot Academy: Learn as You Grow
HubSpot Academy is labelled as the "worldwide leader in free online training for inbound marketing, sales, and customer service professionals." Consisting of narrated videos, how-to tutorials, and hands-on activities, it's a great source of marketing know-how for both foundational and continuing education.
For members of the HubSpot for Startups program, there are some tailormade certification courses and training programs to help with growing and scaling a small business.
Because HubSpot is user-friendly, once you get started with these training resources, nothing will stand in your way of using the platform to boost your marketing, sales, and customer service efforts.
Supercharge Your Inbound Marketing Efforts
It's clear that there are some amazing benefits to signing up for the HubSpot for Startups program.
When used properly, HubSpot's Marketing Hub features can help you to grow your website traffic, convert more leads into customers, keep current customers feeling valued and attended to with great customer service tools, and scale your inbound marketing strategy.
If you're willing to follow a methodology that attracts customers by creating valuable content, you're already halfway to building a long-lasting and meaningful marketing strategy.
HubSpot's tools and training resources are designed to help you create experiences that are tailored to your prospects in every stage of your sales pipeline, forming helpful connections they are already looking for and solving problems they already have.
As a small business owner, Hubspot can help you prioritise growth at the most crucial juncture in your business journey.
At Incisive Edge we are specialists in HubSpot for Startups. We provide HubLab completely free of charge. HubLab is a self-serve onboarding portal, enabling you and your team to onboard at your own time and at your own pace.
And of course, we're here if you need our help.