FinTech marketing comes with challenges that not every marketer is capable of meeting head-on.
With the sector expanding day-on-day and more competitors entering the market, it's essential that you're able to identify the unique opportunities that will enable your business to shine.
As you can see from the graph below from Statista, FinTech transactional value is predicted to be well over $300million in just three years. You'll need to stand out in a big way if you're going to really make your mark.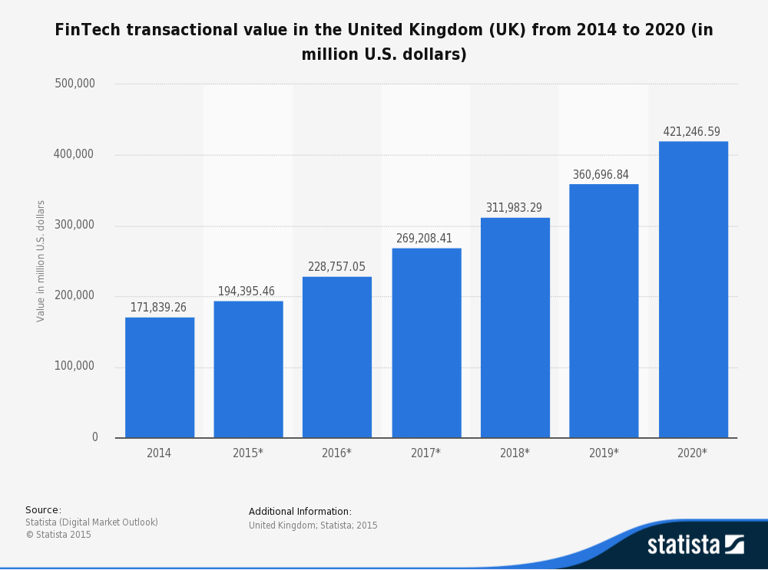 It's no use trying to develop a FinTech marketing strategy with the same cookie-cutter approach that may have worked for other industries in the past. FinTech businesses rely on a significant mindset shift from their potential customers if their products are to be embraced and their company is to thrive.
Take personal finance for instance. Most people don't spend a great deal of time thinking about how they manage their personal finances. This might come as a shock to you, since you've probably spent the last few months, or even years, thinking about just that whilst developing your FinTech product.
The majority of the public only tend to think about the ways that they manage their money when it appears they suddenly have a short supply of it.
A study conducted in the US found that two thirds of people do not budget their money at all and it's not at all uncommon for people to simply defer to the opinion of the bank that they've been with for years.
It's safe to say that these banks don't always have their customers' best interests at heart and they rarely take the time to come up with a tailored approach to managing the average person's finances. Banks are also notorious for their needlessly complex products and hidden fees and charges.
It's tough to see where you can make real savings when no one is telling you what you're buying.
It's true that the financial crisis has decreased trust in traditional banks, but there is still a long way to go before people are willing to embrace disruptive financial technologies in the same way they once embraced mortgages and high-interest savings accounts.
What is Fintech Marketing
Fintech marketing is a new marketing category that includes all tactics and tools used by fintech organisations to drive demand, customer loyalty and business growth.
It's the job of a FinTech marketer to make the benefits of switching to your product and breaking the habits of a lifetime clear to customers. They have to gain their trust and communicate the advantages in a personable and easy-to-comprehend way.
To achieve this, there are four essential ingredients that a FinTech marketer must have.
Creativity
There is a pervasive (and in our opinion, categorically untrue) idea that everything worth doing has already been done. For some, this idea is reason enough to stop trying to come up with something new.
For the FinTech marketer, it is an opportunity to prove people wrong.
Trying to reinvent the wheel is a frustrating and entirely unnecessary endeavour. Coming up with a new angle however, is essential for helping your business stand out from the crowd.
Where creativity can really shine is in the development of content and PR campaigns and in both identifying and utilising content-distribution channels.
Finance is a notoriously 'dry' topic that doesn't often make for especially scintillating conversation. With an out-of-the-box marketing campaign, you can really give people something to talk about.
A great example of this is TransferWise's ongoing campaign to fight hidden bank fees.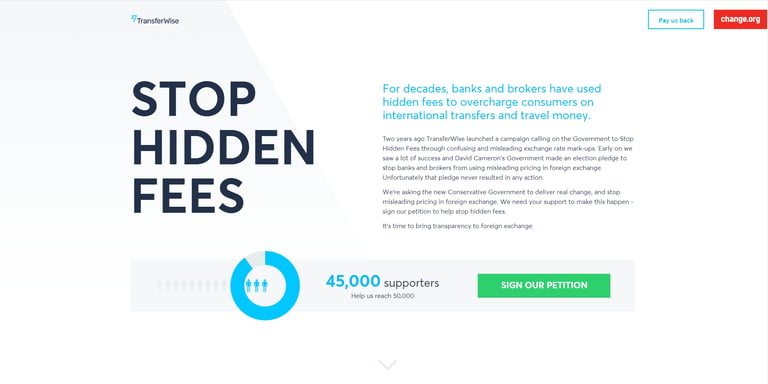 TransferWise is a service that allows you to send money abroad without losing a large percentage due to the excessive fees that banks place on international transfers. With the "Stop Hidden Fees" campaign, they're holding banks to account and positioning their own service as a viable and attractive alternative.
In 2014, they caught the public's attention with a semi-nude protest in central London complete with TransferWise temporary tattoos emblazoned across the chests of participants.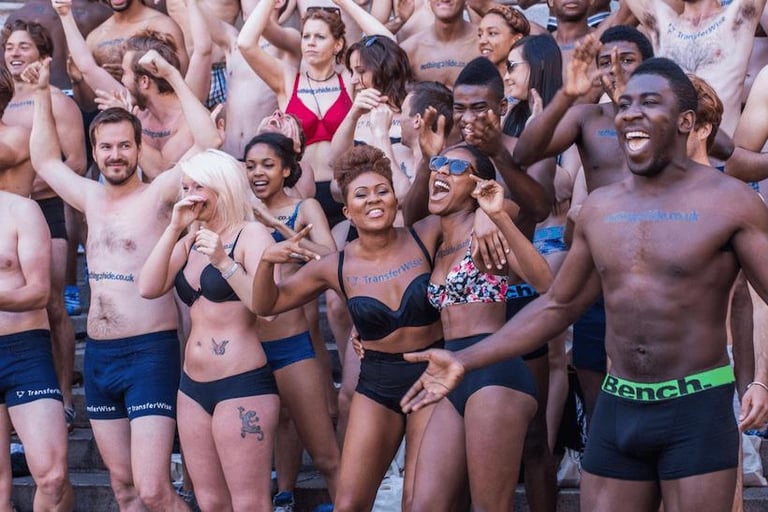 Understandably, the media picked it up and spread the word.

Flash mobs have been done before.

Even nude flash mobs have been done before.

But they'd never been done for a FinTech company.

It's this kind of creativity that's an incredibly valuable skill to have in a FinTech marketer. You should be reactive to change and quick to pick up on trends, but in an ideal world, you'll be the one starting the trend.

You should also have a natural curiosity and a love of research. There's nothing wrong with being inspired by competitors, but the idea itself should always be original.
Analytics Obsessive
A FinTech marketer's activities should always be data driven. With the plethora of analytics tools at your disposal there's no excuse to not be carefully monitoring everything your digital marketing strategies are doing.
At its most basic, they should be keeping a watchful eye on your content readership, social media impact, CTA (call-to-action) click-through rate, landing page conversion rates and traffic sources.
(This post provides a quick rundown on those five metrics and explains how to to boost any numbers that are less than ideal.)
A FinTech marketer needs to stay up-to-date with all the latest opportunities for monitoring their marketing activities and needs to be an expert in your chosen marketing automation platform.
Marketing automation is essential for taking care of some of the more mundane and repetitive tasks involved in marketing and freeing up time for more creative and strategical thinking.
We personally find HubSpot to be the best platform for this as it gathers everything you could possibly need into one place and lets you examine your marketing performance at a glance.
The below image is an example of a business' marketing dashboard on HubSpot. You can see website visits and the number of contacts gained in that month.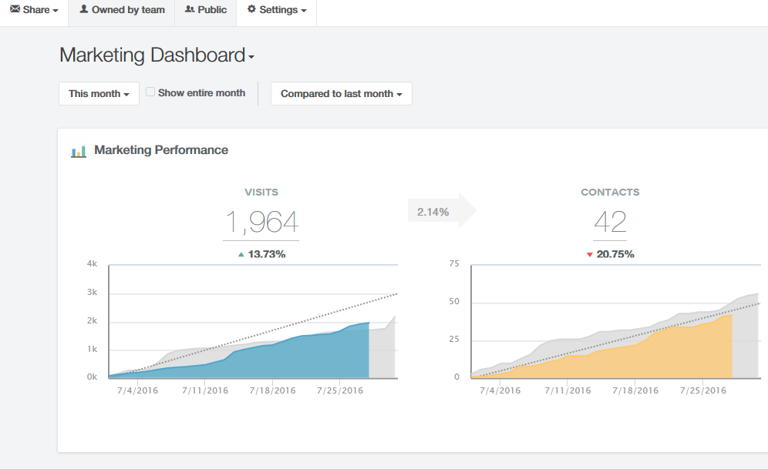 Of course, it's all very well having access to all these great analytics tools but it means absolutely nothing if you're unable to interpret the data and react accordingly.

The ideal FinTech marketer will be able to view data and quickly identify where the gaps are in their strategy. By quickly switching up their approach and continually monitoring for changes, they can discover the recipe for success and growth-hack your business in a short space of time.
Collaboration
Startup marketing isn't a job for just one individual on your team. It may be that right now there's only one person you trust to come up with the really stellar, big-picture ideas, but there's no reason why these can't be fed into by everyone in the team.
If you haven't already, you should take a chance and give other staff the opportunity to come up with something new. You might be surprised by the level of creativity and innovation that's right under your nose.
Collaborating, and being comfortable with having your ideas remixed and adapted, is an essential skill for marketers.
Like the great writer Oliver Wendell Holmes said, "Many ideas grow better when transplanted into another mind than the one where they sprang up."
Being able to do this is evidence of flexibility and a more approachable personality.
These qualities are critical if you'd like your FinTech marketer to be able to liaise with influencers and members of the press (trust us, you definitely want this) and leverage those connections into promotional activities for your business.
This is especially important for the FinTech industry where there are just a few go-to thought leaders that share their ideas with the public. If you can get them talking about you, interest in your product will skyrocket.
They should also be comfortable with outsourcing certain activities that require skills they possess but are time consuming. Researching and writing content for your blog is a prime example of this.
Check out the diagram below created by Jacob Morgan for Forbes. It provides a great overview of the importance and principles of collaboration.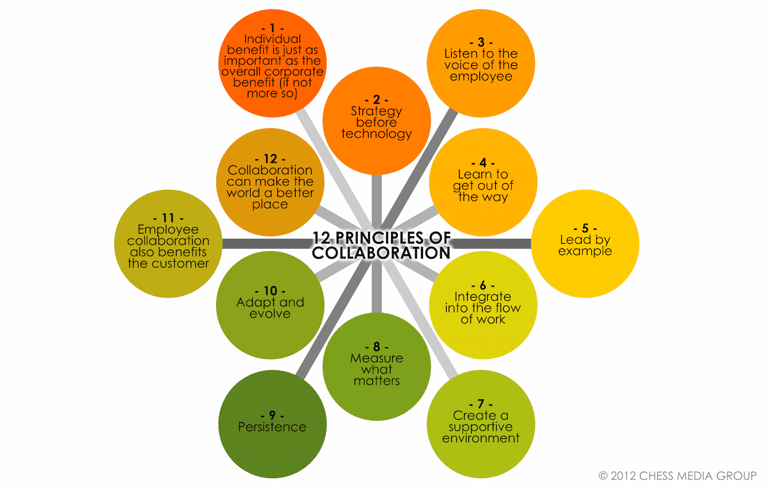 Patience
The vast majority of brilliant content marketing campaigns are not an overnight success. The FinTech marketer has to recognise that coming up with and implementing a great marketing strategy is a marathon, not a sprint.
It's also a multi-faceted process.
You'll never reach the limits of what's possible for your business by focusing all your efforts on a single marketing channel. Having an educational and entertaining blog that's expertly optimised for search engines will certainly bring in some traffic, but combining this with a great Twitter feed and an engaging email campaign will send your leads through the roof.
It's all about keeping the top of your sales funnel wide and nurturing your potential customers through to the moment they decide to buy.
A FinTech marketer has to be with these leads at every step of their journey, providing exactly what they need to increase their confidence in your business and your product.
This inevitably takes time and dedication.
Conclusion
A great FinTech marketer is smart, flexible, and able to reflect back on their efforts and learn from their missteps. They need to be able to shine a light on how your product can provide the value that traditional banking methods are simply unable to match.

If you can find a FinTech marketer with the ingredients we've discussed here, hold onto them, because they'll be the ones helping you to achieve the success you've always dreamed of.
If you would like to create your own bespoke marketing strategy, then just fill in the form in the sidebar for your mini or full free consultation.