FinTech companies have been breaking boundaries and disrupting the stuffy methods of traditional banks for decades now. It's only in recent years that they've really come into their own with innovative and carefully crafted content marketing strategies.
Like any industry, the FinTech sector is able to utilise the inbound marketing methodology to draw attention to their products and attract strangers.
Through reading, watching, and listening to educational and entertaining content, these strangers become better informed about the world of FinTech and feel equipped to make independent decisions about the FinTech products that they want in their lives.
Informed customers are happy customers, and happy customers are the ones that will keep coming back to you.
Remember the old adage, "give a man a fish and he'll eat for a day, teach a man to fish and he'll eat for a lifetime"?
An inbound marketer would teach him to fish...then recommend some great fishing spots, give him diagrams for making his own lures, tell stories about the biggest fish ever caught and... well, you get the picture.
That fisherman now trusts you as an expert on all things fishing and will not only always come to you for new rods and bait but will tell everyone he knows that your business is the only one worth going to.
Because you understand him and his needs.
This intuitive approach to digital marketing campaigns is infinitely more effective than the aggressive advertising and sales techniques that were favoured in years gone by.
There's nothing more off-putting than being told what to spend your hard-earned cash on.
These exact same methods are now being applied to FinTech and are having incredible results.
It's simple really - combining ground-breaking products with intelligent digital marketing plan will lead to a seriously successful business. Here are five Go To Market Strategy Examples.
These five awesome FinTech startups with standout marketing tactics prove it.
1. CoinBase
CoinBase is a Bitcoin and Ether wallet.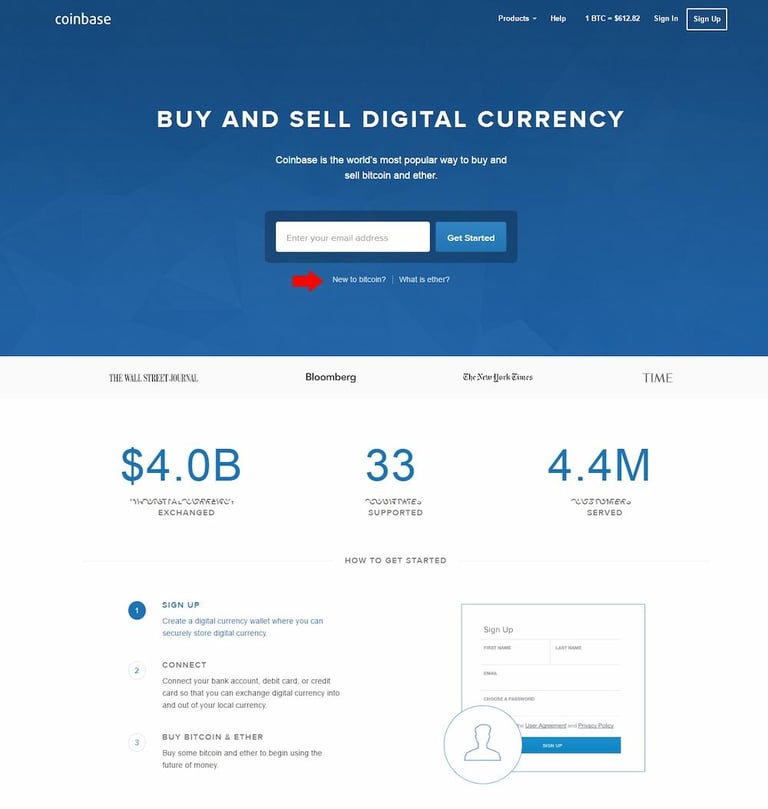 This essentially means that it's a platform for buying, selling and using digital currency anywhere in the world. For new users, CoinBase helpfully provide links to explanations of what Bitcoin and Ether are and how they are used.
What CoinBase does brilliantly is provide an arena for current and potential customers to discuss their products, developments in digital currency and provide feedback.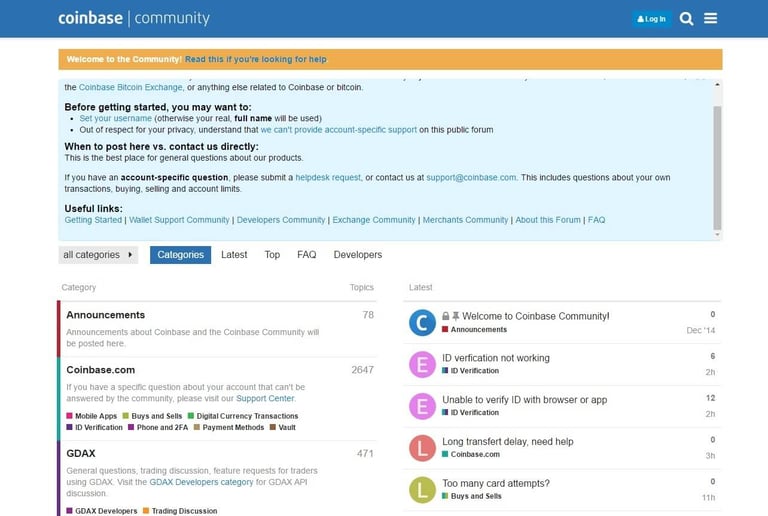 The forums are very active and have CoinBase staff on hand to deal with customer queries in real time. They have, in effect, created a community with their product at its heart.
This is a great example of helpful content working with awesome customer service to provide CoinBase users with a truly delightful experience.
In addition to this community, CoinBase also run a blog which they use to share updates and clarify aspects of their product.
2. TransferWise
Transferwise is a service that allows users to send money abroad without being charged the excess fees that banks usually tack onto international transfers.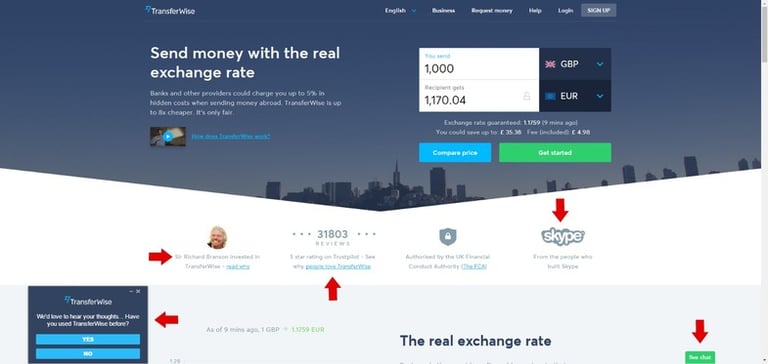 There's a lot happening on TransferWise's homepage and every bit of it is adding value to the customer.
By pointing out that they're associated with Richard Branson and Skype, they're increasing trust in their service and their brand. They also prominently display their number of reviews and their Trust Pilot rating (and rightly so, that's a stellar score!)
Attached to the bottom of the window, TransferWise have a feedback box and an option for a Live Chat, demonstrating that they're ready to provide great customer service.
But where TransferWise really shine is in their social media feeds.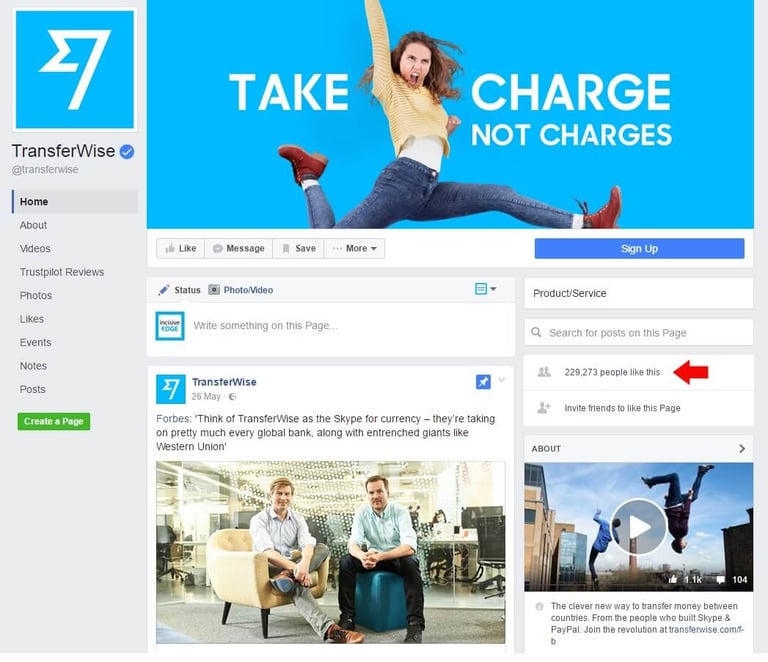 They have a massive number of followers on both Facebook and Twitter, and they're very active posters. They are also fantastic at responding to commenters and keeping their fans engaged with important and entertaining campaigns.
Their most recent campaign, #StopHiddenFees, has grown into a huge event which included a march on parliament and the development of a landing page linked to their website.
The url has been prominently displayed on signs and even on the side of a lorry. It's no doubt bringing in masses of traffic for their site.
3. Xero
Xero is a company providing accounting software targeted mainly at small businesses.
The software itself is developed with the user experience in mind, and is focused on creating an intuitive system that lays out data in a visually appealing and easy-to-read way.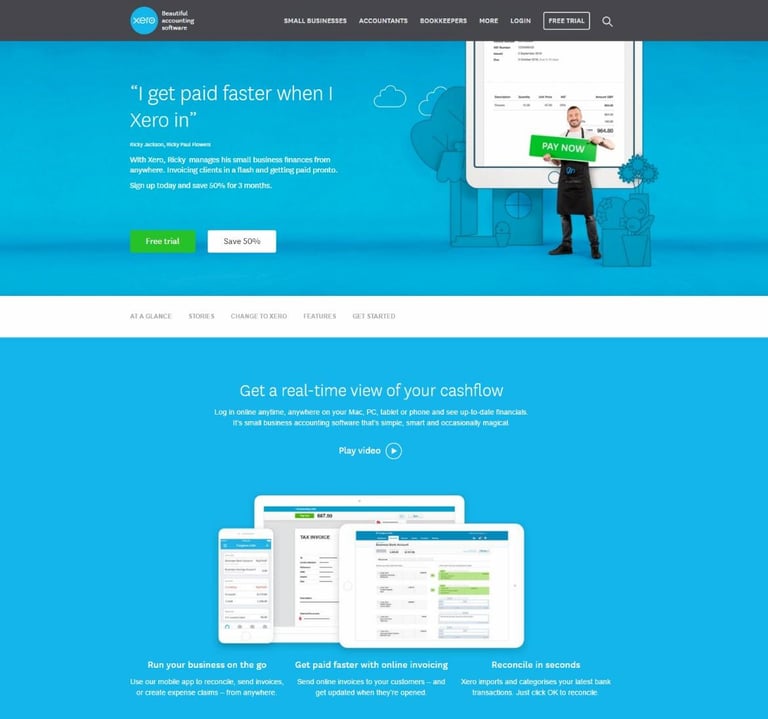 Xero have a huge number of resources to help new customers get to grips with their product. One of the most compelling is the videos & guides section, or Xero TV.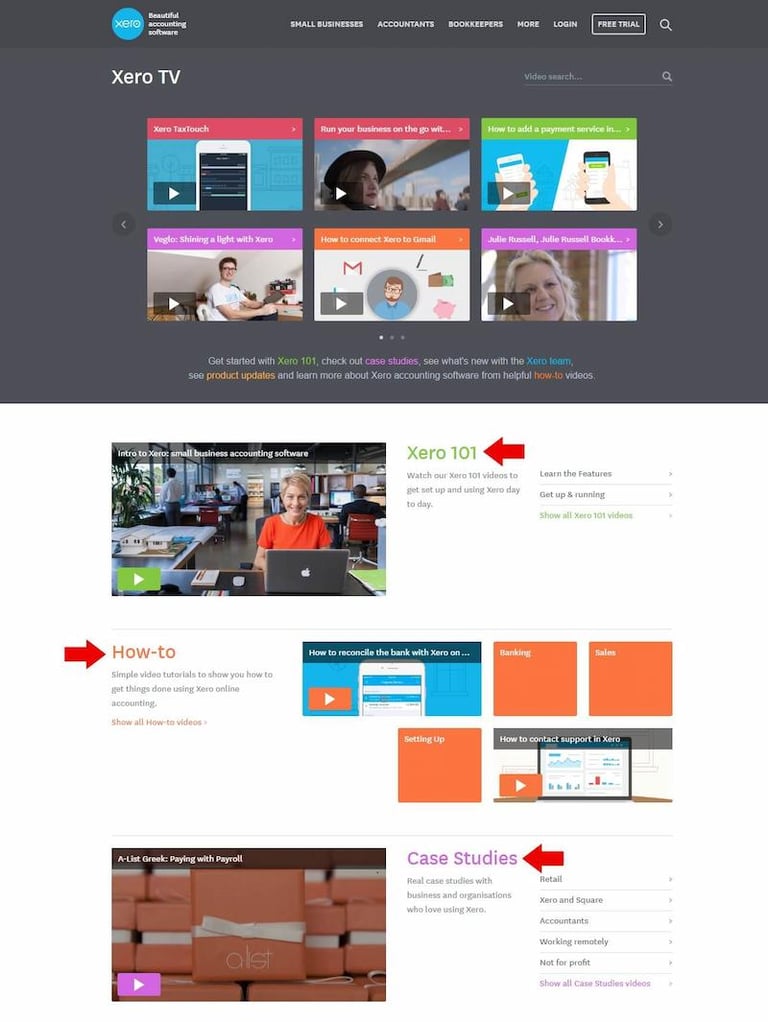 It's broken up into five sections, three of which are shown in the screen capture above.
They're colour-coded so users know at a glance exactly what they're about to watch, and cover every subject relating to Xero and small business accounting that you could think of.
Video content isn't easy or quick to produce but it's enormously helpful to users.
There's plenty of stats to back up the effectiveness of using video in your marketing strategy.
Adelie Studios recently conducted a study and found that companies using video experience 41% more web traffic from search than those who don't. They also found that these businesses grow company revenue 49% faster, so it's no wonder that Xero is doing such a brilliant job at expanding their company and customer base.
4. eToro
eToro is "a social trading and investing company that allows its users to watch the financial trading activity of other users, copy them, and to make their own trades."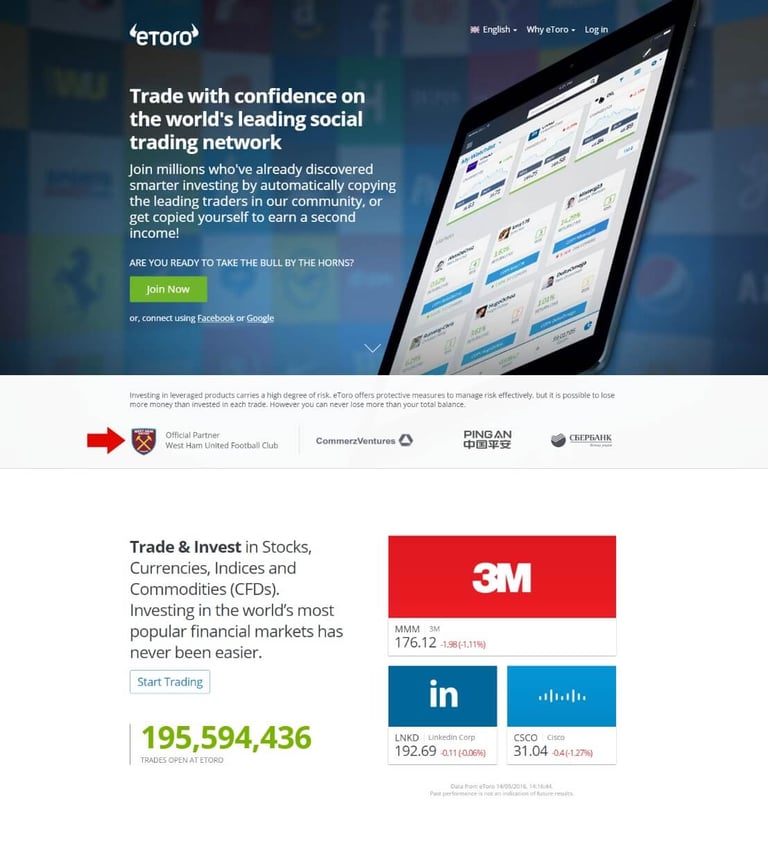 If you're a West Ham United fan, you might just recognise eToro as one of their official partners.
eToro are awesome at hosting events and their live webinars are really popular. They have a stack of them available on their site which take users through the ins and outs of online trading and helps them master the eToro platform.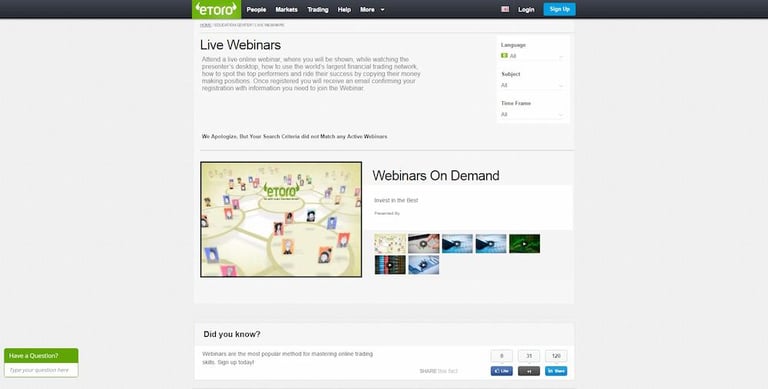 Their webinars are produced by an expert filming their own screen as they take viewers through the intricacies of the software.
It's easy to understand and follow along with the steps, meaning that customers feel much more comfortable when the time comes to do it for themselves.
As you've already read, well-made video content is a fantastic resource for any business, and a live webinar is an evolution of that. Once the video has been made, it can remain in the company's archives and be accessed by customers for years to come.
5. Vox Markets
Vox Markets is a niche and exclusive social network for people interested in stocks and market related news.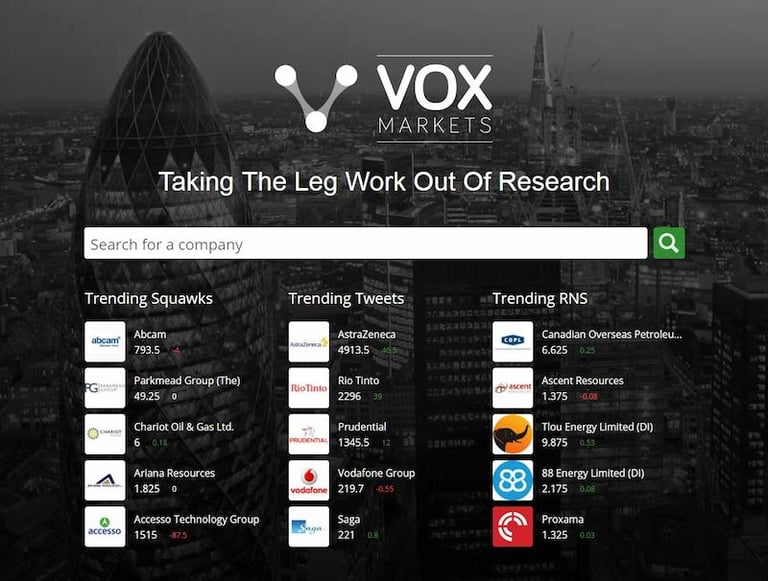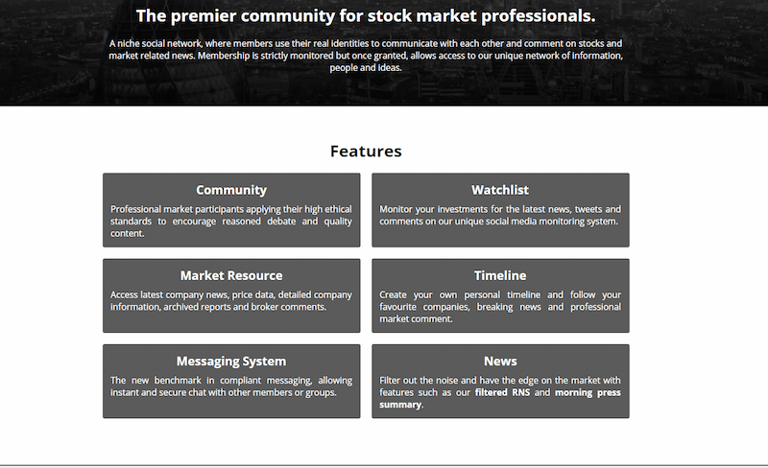 The majority of their content is inaccessible to non-members, but their excellent selection of hundreds of informative podcasts can be downloaded from iTunes.
Podcasts might seem like an unusual choice for a FinTech marketing strategy, but Vox Markets has really managed to nail it. They're short and filled with expert advice, making them enormously valuable to their customers.
David Burton, director at Vox Markets, explained to us that the company uses podcasts because they are able to engage a much wider audience than they could otherwise access.
"Our Vox Markets Podcast regularly achieves around 2500 downloads a day, and we are in the top 10 most listened to financial podcasts according to iTunes."
The format is kept pretty simple. Vox Markets will invite a company over to discuss their newsflow and they'll then take questions from the audience.
This is a win - win - win situation. The company gets some great exposure, the audience gets lots of educational content, and Vox Markets gets to cement their position as an industry leader.
Lots of listeners leave reviews explaining that they download the podcasts to listen to during their commute and end up feeling inspired for the rest of the day.
And where do you think they go after that?
You guessed it.
Straight back to Vox Markets to connect with other investors.
This is a brilliant way of drawing in traffic through your content, and is a technique that all FinTech startups should strive to understand and imitate.
So now you've heard about all the standout marketing techniques from these FinTech startups, it's time to get started on your own, and build the business you've always dreamed of.
Like Gregory Weber, Market analyst at PwC Luxembourg says, "The future of financial services is bright."
Be a part of it.