The rapid evolution of digital marketing and electronic commerce has driven B2B buyers and decision-makers to shift their operations online. This trend has been further accelerated by the impact of COVID-19, reducing reliance on traditional, physical methods of evaluating and purchasing goods, services, and solutions. Consequently, businesses now require the services of a digital strategy company and digital strategy consulting to effectively navigate and capitalize on the online landscape.
Most B2B purchasers now complete at least part of the buyer's journey through digital channels – whether that be product research such as reading blogs, eBooks, white papers and case studies, assessing alternatives, using B2B marketplaces, or taking advantage of payment, delivery and fulfilment services that have a digital component. Indeed, B2B buyers today expect a high level of digital interaction with the brands they do business with – which means B2B organisations require a strong digital presence in order to satisfy their needs.
Check out the following blogs to learn more about marketing strategies:
To engage B2B buyers' attention in the organisation's products and services and then nurture them through the sales funnel, B2B organisations require a digital marketing strategy that encompasses all aspects of the customer journey. This digital strategy must cover all avenues of the organisation's outreach to its target market through integrated physical and digital channels, and resonate with the needs and wants of key decision-makers. Digital strategies must also align with the organisation's business objectives, as well as the limits of the organisation's budget and available resources.
Assessing your digital strategy position
Digital marketing strategies don't just happen – they require a degree of planning and decision-making before you can put them in place. Engaging with digital strategy companies can provide valuable expertise and guidance in developing a successful digital strategy.
An essential first step is to assess your current status with respect to digital marketing. Establish how your target audience is behaving online – which apps, platforms, and digital channels they use, and how you can better address their needs using web, mobile, and social media. Identify areas where you can increase revenue by adopting digital strategies such as automation, or ecommerce. Make an honest assessment of the skills and resources currently available to you. Can you effectively implement a digital marketing strategy yourself – or would you benefit more from partnering with a digital strategy agency?
Putting a digital marketing strategy together
Your digital marketing strategy should be a customer-centric endeavour that focuses on your target audience. For this reason, you'll need to clearly define your buyer personas. The best digital marketing strategies are built on detailed buyer personas, and based on a number of attributes such as buyer location, job title, income/spending power, goals, challenges, and priorities. Clearly pinpointing all of these attributes requires diligent research and accurate assessments – skills that the best digital marketing agencies can offer to complement the efforts of your own sales and marketing teams.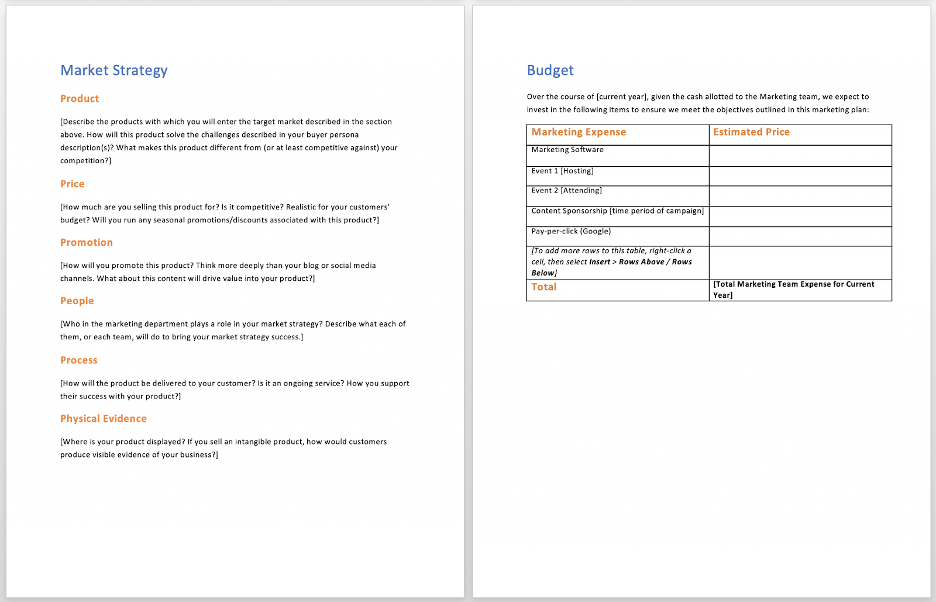 [Image source: HubSpot]
To properly identify your business goals and the digital marketing tools you'll need, incorporating search engine optimisation (SEO) is crucial. A high-level digital marketing strategy template can help outline your annual marketing strategy and identify top priorities, while seeking guidance from top digital strategy companies. This approach ensures a balanced and objective view based on your organization's internal perspective. For a higher level of expertise in digital marketing strategy planning, consider engaging a full-service digital agency specializing in SEO and offering comprehensive digital marketing services.
Providers of digital marketing services can also give you the assistance and guidance you need to properly assess your existing digital channels and assets. These will typically include owned media such as your company website, blog, and content marketing portfolio.
Your digital presence may also include earned media, in the form of consumer-generated content like positive reviews and referrals, shares and comments on your social media marketing output, and content marketing that you distribute via other websites (for example, in the form of guest blog posts).
Finally, your output on digital marketing channels may also consist of paid media like Google Ads, paid posts for social media marketing, or other digital marketing activity conducted for a fee.
Top digital strategy agencies should be able to advise you on the ideal mix of media to help accomplish your business goals. A good digital strategy agency will also be prepared to help you incorporate the channels that work best for your business objectives into your digital marketing strategy.
Optimising your digital marketing
The best digital marketing agencies will go that step further and assist you in optimising the orchestration and implementation of your digital marketing strategy. For example, a digital strategy service can help identify gaps in your content creation that you should fill to properly address specific pain points or challenges suffered by your target audience. Digital strategy services can also assist with search engine optimisation (SEO) for your content marketing output, and suggest new avenues or digital channels that you can exploit to maximise your reach.
Digital strategy services can also play a key role in measuring and monitoring the success of your strategy. A digital strategy agency might, for example, use specialist web analytics tools to determine what location your website traffic is coming from.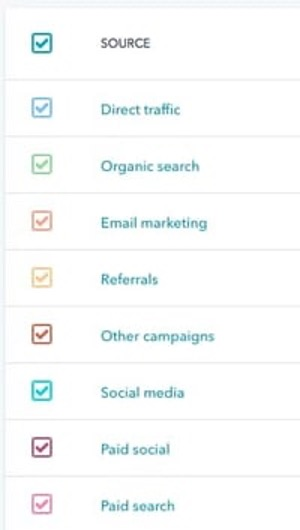 [Image source: HubSpot]
With clear and quantifiable metrics and key performance indicators (KPIs) in place, a digital strategy agency can help you identify which digital channels and digital strategies you may wish to continue using, and which (if any) you'd like to remove from your digital marketing strategy.
Here at Incisive Edge, we'll create a digital marketing strategy that builds a direct connection with your customers and speaks to them in a voice which resonates and demonstrates how clearly you understand them. We will utilise the assets and digital channels you currently have, as well as fill any gaps as quickly as possible to help you accelerate growth.
To find out more about how the Incisive Edge digital strategy agency can help you win online, get in touch with us.