Depending on the size of your organisation, you may be unable to commit great amounts of resources and labour to achieving growth. Yet, growing your business and expanding your reach to larger or higher value target markets remains a key objective. This is when growth hacking becomes an option to seriously pursue.
Growth hacking is a marketing strategy that involves the use of cost-effective marketing activities that typically require minimal resources, yet help to grow and retain an active user base, sell products or services to a target audience, and increase exposure for the brand.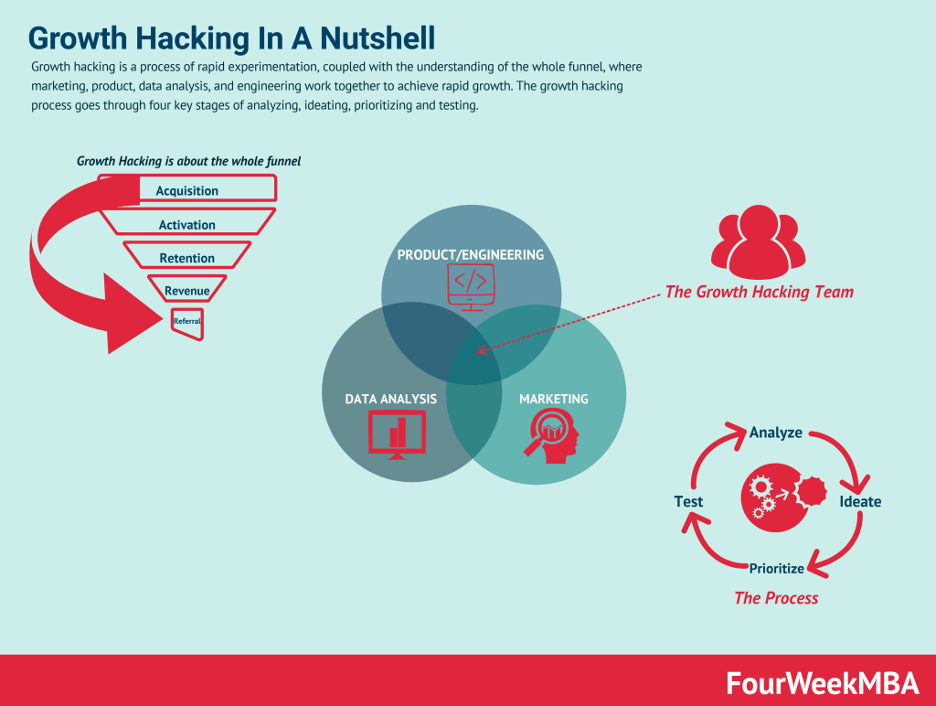 [Image source: FourWeekMBA]
Also known as growth marketing, growth hacking is typically associated with startups and smaller scale enterprises that may lack the time and resources to pursue expensive and complex marketing strategies, but desire quick results.
For this reason, growth hacking characteristically involves a marketing mix supported by optimisation and analytics systems that facilitate automated marketing activities on a limited budget. These may include email marketing campaigns, a focused SEO strategy for content creation, and methods to streamline the signing up and onboarding of new customers and users.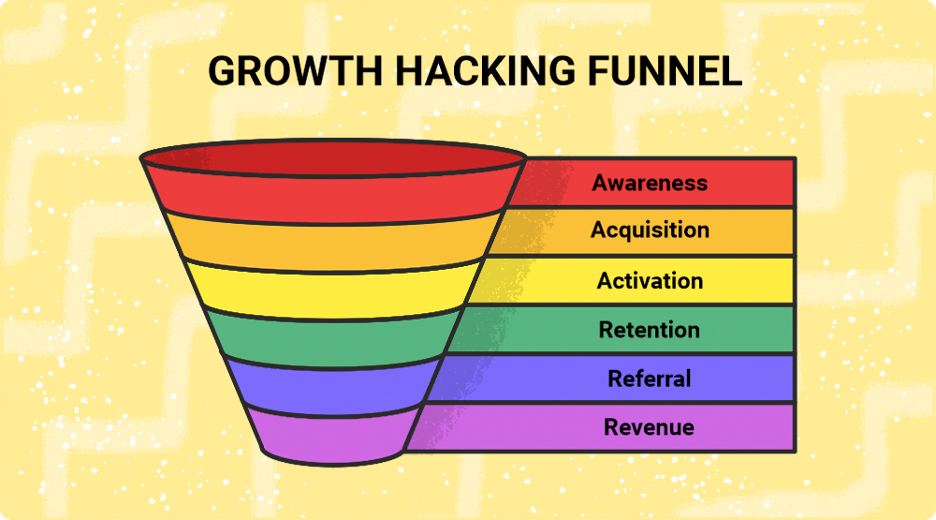 [Image source: Snov.io]
Growth hacking is a data and results-driven marketing strategy that may require particular attention to detail, and expertise. So organisations looking to pursue growth marketing channels may benefit from partnering with a strategic marketing agency.
Here at Incisive Edge, we have been consistently successful in promoting growth for a range of clients including startups, scale ups, and more established enterprises. In this article, we share some of our formulas for success.
How we help startups build foundations and momentum
Startup organisations typically need to compete in a noisy environment and reach prospective buyers at the right time, on a tight budget, and with a small team. They must therefore stand out against established competitors and showcase their value in a way that prospects can't refuse.
For startups, Incisive Edge helps define and execute a successful SEO strategy that drives traffic to build your target audience. We carry out detailed keyword research and analysis to attract the right audience, and create an SEO content structure to play to search engine algorithms, with informational and transaction keywords that cover your entire marketing funnel.
This approach helps startups to create high-quality SEO content on a tight budget and build a target audience ready for engagement by focusing on keywords you have a chance of ranking for.
On social media, we develop a clear social strategy and conduct hashtag research that will help you reach your audience. We build your campaigns by concentrating only on the channels you need to be in – and create structured campaigns to make the best use of your resources and assets to drive customer acquisition. Incisive Edge favours an inbound marketing approach that results in cost-effective lead generation.
As Nicki Cho, Head of Content at Go Cardless observes: "As a fast growing tech startup, we rely on SEO and powerful content to drive our lead and demand generation engine. The experience and expertise of the Incisive Edge team has been invaluable in helping us to refine our strategy, plan campaigns and automate processes."
How we help scaleups reach high growth ambitions
If your company and offering have matured, but you need to meet more challenging growth KPIs to satisfy board and investor expectations, Incisive Edge can help you get your winning go to market (GTM), brand positioning and campaign strategies in place, and then create a scalable execution machine – quickly and cost-effectively.
For instance, you may need to make a step change or pivot to increase your revenue or reverse a decline. We'll define the strategy that builds upon your success and highlights your strengths and differentiators in a way that stands out to your audience.
For scaleups, we'll review your existing target audience and update/identify new buyer personas to boost growth. Incisive Edge will also help nurture your most loyal customers to create a community of advocates. As marketing specialists, we'll help you stand out from the competition – and create an engaging brand that evolves with your customer base. Employing state-of-the-art analytics systems, we'll identify new opportunities using a "Test & Learn" approach to broaden your audience and increase your campaign ROI.
Our methods produce results. As David Llewelyn, Head of Marketing at Debut, puts it: "The team at Incisive Edge were super responsive throughout, moved extremely quickly and were happy in a fast moving, often ambiguous environment. A great partner for any high growth business."
How we help established companies reach new levels of success
If your organisation has been on the scene for a while, you may find that campaigns and messaging which previously resonated with your target audience are having less or even no effect. Revenue may not be growing – or worse, declining as new competitors enter the market and existing competitors up their game.
Incisive Edge will get you back to, and beyond, your previous levels of success. Whether you need us to act as your internal team or work with your in-house team, our practical and down-to-earth approach spans marketing strategy, execution and optimisation to deliver results.
We'll build multi-channel campaigns that work tirelessly to drive customer acquisition, and create a clear strategy to increase qualified traffic and drive ROI. For instance, with paid search we employ our Certified Google Ads professionals to ensure high ROAS (Return on Ad Spend). On social platforms, we'll exploit influencer marketing and other marketing strategies to reach and engage your audience in a way that will help build a buzz and grow your community.
As an established enterprise, you'll already have a target audience of high-value accounts. With Account Based Marketing (ABM), we'll successfully engage with a specific set of target accounts within your markets, and define a campaign strategy that uses a personalised approach and messaging that addresses the specific needs and characteristics of each account.
As Ed Conklin, Founder of Central Data Storage enthuses: "I was referred to Incisive Edge and what a great referral. Their data-led approach and value-led content has given us the platform, position and strategy that is both realistic and achievable. And they have achieved it. Their clear and practical strategy, followed through with fantastic execution, has been transformational."
To find out more about how Incisive Edge can help your organisation achieve the growth and marketing goals you crave, get in touch with us.