While the focus of traditional marketing is to attract the attention of new customers, the goal of customer marketing is to retain existing customers. With a customer marketing strategy geared toward the needs of an existing customer base, customer marketing efforts focus on promoting customer satisfaction. This might be for example through the provision of ongoing specialist support and resources like training, exclusive offers, or greater access to product and service ranges.
What is customer marketing?
By taking steps to foster customer success, customer marketing strategies look to promote customer loyalty, and to convert existing customers into brand advocates.
Why customer marketing strategies are important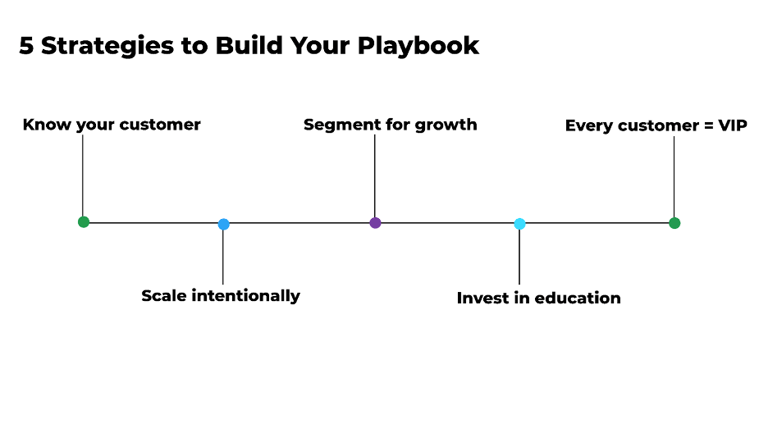 [Image source: ProductLed.com]
The simple fact of the matter is that customer retention benefits organisations more than the time and effort put into acquiring new customers. Typically, acquiring new customers is five times more expensive than retaining current customers. What's more, improving customer retention rates by as little as 5% can increase an organisation's profits by between 25% and 95%. And since existing customers already have some familiarity with the quality and value that a particular brand's offerings can deliver, the likelihood of selling to current customers can be as high as 60-70%.
Organisations are therefore well advised to adopt a customer marketing strategy that looks to boost customer loyalty, with customer centric marketing that focuses on providing customer satisfaction and the resources, guidance, and support needed to deliver customer success.
How customer marketing can help build your business
As illustrated in the previous section, a customer marketing strategy dedicated to retaining existing customers, building customer loyalty, and driving client success brings advantages to your business in terms of reducing the burden and urgency of acquiring new customers, increasing customer retention and brand loyalty, and increasing revenue through more assured sales to established customer communities.
There are other specific benefits of customer marketing that a customer driven marketing strategy can deliver. They include:
1. Creating a deeper understanding of your current customers
A key requirement for a customer driven marketing strategy is to run a customer marketing campaign that is specifically tailored to the buyer personas and customer journey of your target audience of existing customers.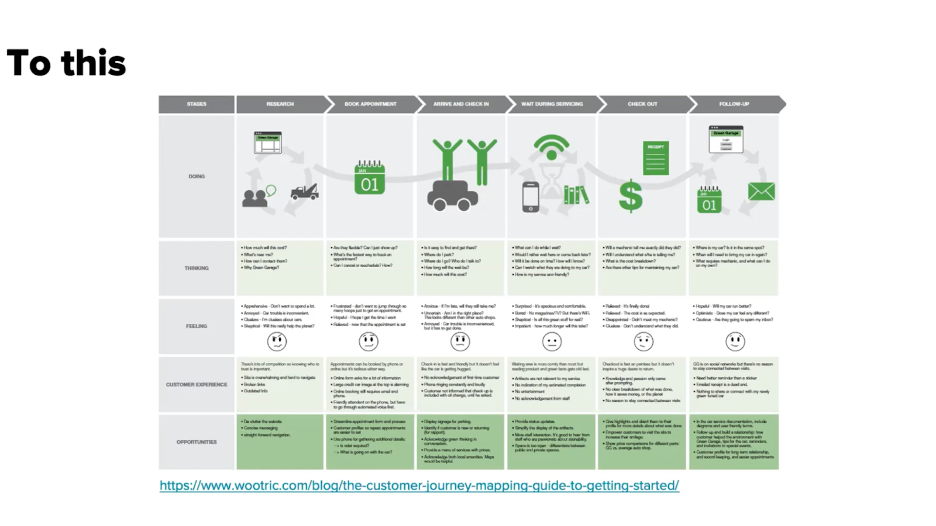 [Image source: Wootrix.com]
Knowing the unique needs, pain points, and aspirations of your existing customer base positions you to better create content, resources, and a support base that promote customer success and drive customer loyalty. This knowledge can also open up opportunities for cross selling, the improvement of loyalty programmes, and other marketing strategies,
2. Providing the information and metrics you need to scale effectively
An effective customer marketing strategy requires relevant metrics and Key Performance Indicators (KPIs), to guide your customer marketing team in gauging its success. Indicators such as customer retention rates, engagement rates with content and social media, customer service resolution rates, and customer satisfaction scores can assist in measuring customer success, brand loyalty, and the effectiveness of word of mouth marketing.
Knowing what works and what doesn't also helps in guiding resource allocation, and indicating areas where your organisation needs to scale up or cut down.
3. Enabling target audience segmentation and greater focus on existing customers
Drilling down to a greater understanding of the challenges, motivations, and desired outcomes of your current customers, a customer driven marketing strategy empowers your marketing team to decide on the best approach and outreach methods for connecting with existing customers, and nurturing relationships with them.
For example, high value, VIP, or enterprise level customers might benefit from a "high touch" approach with regular contact and in-person communications. Alternatively, technology-based methods like in-app messaging, push notifications, and online training can enable your marketing team to reach high volumes of existing customers in a way that's more affordable and efficient for your organisation.
4. Creating avenues to educate and engage with your customers
Providing opportunities for customer feedback and direct interaction with consumers are also part of a customer driven marketing strategy. Content and resources that you provide can help to boost customer loyalty by giving customers valuable training, skills acquisition, and guidance. Creating avenues for customer feedback and social interaction assist in building a sense of community participation in the activities of your business.
Advocacy, growth, and community participation can all become part of a beneficial mix, as satisfied customers share their customer success stories through word of mouth marketing, advocate marketing, and any referral programme that you may have in place.
5. Finding the right balance of techniques
While customer retention costs less and ultimately brings more to the table, acquiring new customers (who will eventually become loyal existing ones) is an activity that you should not ignore. Your customer marketing strategy therefore needs to be a balanced effort.
Besides striking a balance between customer acquisition and retention efforts, you also need to develop the right mix of techniques for your customer marketing efforts -- such as "high touch" for VIP clients, technology for cost-effective mass outreach, or a combination of techniques for customers that aren't quite experienced, but have the potential to grow and become high value clients.
You may also need to partner with a specialist marketing agency.
Here at Incisive Edge, we offer personalised customer acquisition marketing for ambitious companies who want to improve sales. We'll help you attract and connect with B2B buyers, designing your custom strategies to deliver high-quality leads to convert more customers -- and customer marketing strategies that promote customer retention, customer satisfaction, and customer success.
As a B2B marketing agency, Incisive Edge bring you the expertise you need to find your brand differentiation and build the essential foundation for your digital marketing machine. Our positioning strategy projects work to collaboratively draw out the best bits of your brand while improving the customer experience -- so your existing customers can serve as brand advocates.
With a focus on the numbers that matter most to your business, we deliver real world experience and real world results.
To find out more about how Incisive Edge can assist in your customer marketing efforts, get in touch with us.