In a highly competitive market, successful startups must set out a value proposition which provides solutions to problems or addresses pain points that potential customers are experiencing right now – but also with an eye to dealing with the issues and growth opportunities of the future.
To achieve these objectives, companies must engage in a variety of activities dedicated to identifying target markets, creating brand awareness, generating and nurturing leads, closing deals, contributing to customer success and creating an atmosphere for the growth and evolution of the enterprise itself.
Much of the initial work of putting these mechanisms in place will fall to you, as a startup founder or co-founder. In the early days, it will be your responsibility to get familiar with your target buyers, land those first accounts, bring in the resources needed to keep the business running, and to establish what works and what doesn't. With this knowledge, you will then be in a position to choose and invest wisely when expanding your infrastructure and hiring your staff.
Fortunately, startups now have access to a range of tools and resources that can ease the burden on their founders. We'll be looking at ten of the best in this article.
10 B2B Startup Resources for Founders
A typical startup business will require tools, information and expertise for product or service development, marketing and the running of its day to day operations. The following resources provide a range of options for B2B startup founders.
1. Access to Expert Advice
Scouring social networks and internet search engines for the answers to vexing issues can be a time-consuming and frustrating task, which already overworked startup founders will have little appetite for.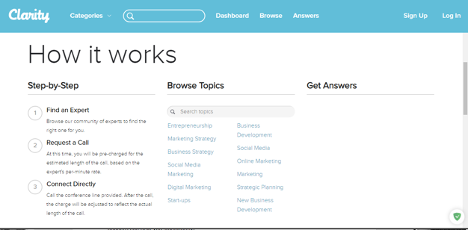 (Image source: Clarity)
Clarity is an online resource that makes expert business advice available on demand. World-class industry experts and global leaders contribute to the site's content, which covers a range of areas including fundraising, the management of a business organisation, and the teething problems experienced by startup companies across the globe.
2. Access to Venture Capital
During the early stages of a business, one of the major hurdles facing founders is attracting investment. Crunchbase provides access to an enormous database with information about startups, investors and funding avenues. Users can discover companies that match their ideal target prospects and identify individuals to whom it would be appropriate to reach out using verified contact data.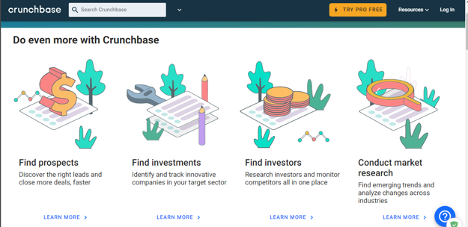 [Image source: Crunchbase]
The basic service is free, but there's a Crunchbase Pro version that offers advanced analytical features, unlimited search results and interactive dialogue with potential investors.
3. A Way to Keep Track of Investment Capital
In steering a successful course for the fledgling business, founders also need oversight and an effective means of managing the flow of information and resources into and out of the organisation.
Foundersuite is a software platform for raising venture capital and managing investor relations. It features a proprietary database of 21,000 venture capital funds and 100,000 angel investors, family offices, "fund-of-funds" investors and other financial firms.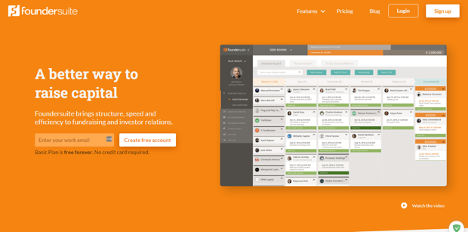 [Image source: Foundersuite]
Foundersuite provides a Customer Relationship Management (CRM) tool specifically engineered to help startup founders manage their investor funnels and venture capitalist database.
4.Tools for In-House Software Development
Tech startups in particular have a need for fast and cost-effective software and infrastructure development tools and access to information and resources concerning the latest technology trends such as Machine Learning (ML) and Artificial Intelligence (AI). However, startups of all kinds may require the means to produce in-house mobile apps or technology solutions to better serve their customers, or to improve the efficiency of their internal operations.
One of the most cost-efficient platforms for software development is GitHub.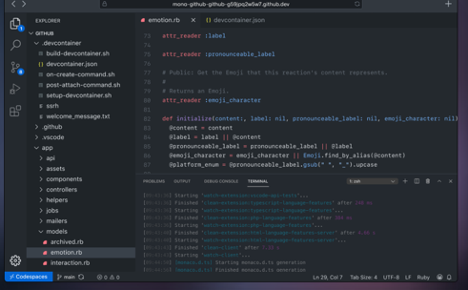 (Image source: GitHub)
Besides providing tools and libraries for software coding, the platform also gives access to a worldwide community of developers for consultation and the sharing of ideas.
5.Tools for In-House Visual Content Creation
With mobile devices, ecommerce and social media very much at the forefront of the economy, startup organisations are under intense pressure to continuously produce relevant and high quality visual content to promote their businesses and effectively engage with their consumers.
Canva is an innovative graphic design tool that enables in-house creative teams to produce compelling visuals for blogs, social media posts and other inbound marketing content.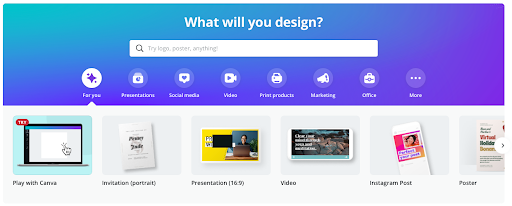 [Image source: Canva]
The platform provides a user-friendly interface and has a comprehensive set of design features. There are a number of user options. For example, the Canva Pro version gives users over 100 million premium photos, videos and design elements, and comes with a Brand Kit and Content Organiser.
For startup content creators with little time on their hands, ready-made images can significantly reduce the work load.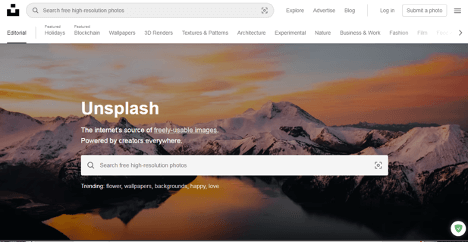 [Image source: Unsplash]
Unsplash offers a library of over one million images, covering virtually every subject imaginable. All the images are free from copyright or trademark restrictions.
6. Design on Demand
If your startup doesn't have a dedicated visual content creation department, Penji offers a team of expert designers who can provide the material for your marketing campaigns.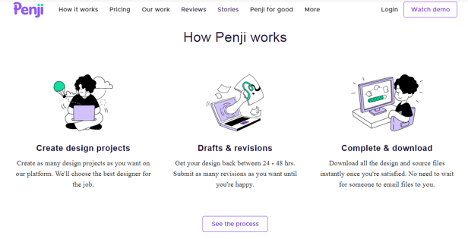 [Image source: Penji]
The service charges a flat monthly fee. For that, subscribers may submit and queue up as many design projects as they wish, with an unlimited number of revisions. Each design is typically turned around in 24 to 48 hours. Subscribers retain 100% ownership of all original source files created for a project, and can download the finished materials on demand.
7. A Way to Manage Customer Relationships
Customer Relationship Management (CRM) is critical to the establishment and continuing survival of any commercial enterprise.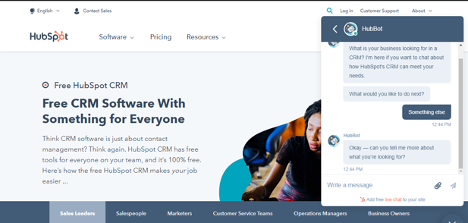 [Image source: HubSpot]
CRM by HubSpot is a free tool that enables startups to manage their data entries, social media presence, monitoring, and other customer facing activities. Detailed reports on sales activity, productivity and individual performance give an up-to-the-minute view of your entire sales pipeline. You get an unlimited number of users and data, with up to 15 million contacts with no time limit or expiration date.
8. A Way to Manage Your Email Marketing
Email marketing provides budget-constrained startups with a cost-effective avenue for outreach to customers and partners. Adding automation to the process also makes email marketing highly efficient.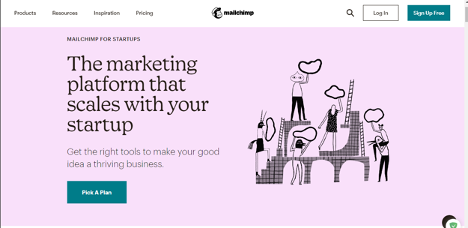 [Image source: MailChimp]
MailChimp is an email automation tool that offers a free plan for a maximum of 2000 subscribers.
9. A Way to Manage Your Human Resources
Setting up a dedicated Human Resources (HR) division may also be something that you are financially incapable of as a startup founder.
Gusto is a software platform that takes up this task on your behalf. It provides tools for full service payroll, employee benefits, time and attendance tracking, hiring, onboarding, talent management and reporting.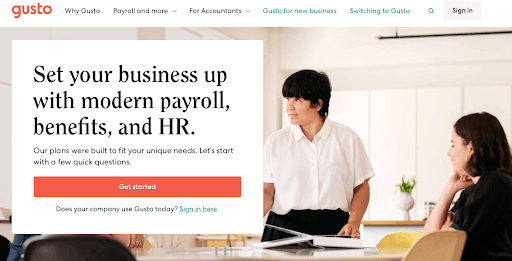 [Image source: Gusto]
Rather than dedicated HR personnel, Gusto provides automated tools for handling employee payrolls, insurance, the settling of grievances and other aspects of the Human Resources work flow.
10. A Way to Track Your Progress
In the digital economy, having some kind of online presence is a must – for startups and established businesses alike. Keeping track of the activity that takes place on your website, portal, or blog is also critical, as you need to know how many people are visiting your outlets, who is visiting, and what they do on site.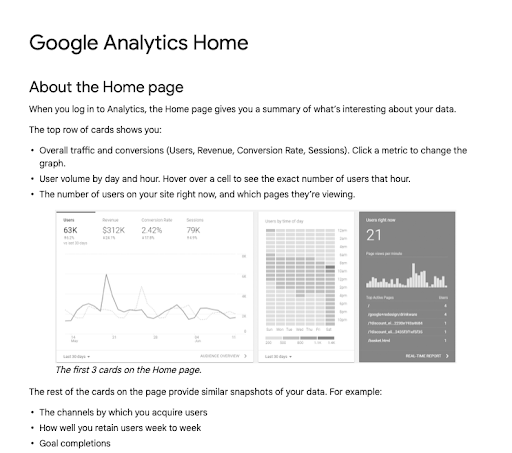 [Image source: Google Analytics]
Google Analytics is a well-established and essential tool in this arena. It monitors traffic on your website, and gives you insights into how your website is performing. This information can help in identifying what your target customers need and want – and thereby assist in developing your marketing strategies.
Some Advice from Successful Startup Founders
Software and services can only take you so far. As a startup founder, you will also need to make strategic decisions and take on-the-spot actions in response to a variety of circumstances and market conditions. It is here that you can benefit from the wisdom and experience of successful startup founders who have been through similar situations as yours, and emerged stronger and more resilient, as a result.
The following are some key insights from startup founders who have gone on to create stable and successful businesses.
You Don't Necessarily Need Money Up Front
If you are fortunate enough to have a set of investors who are willing to put money into your startup venture, you're in a great position. In many cases however, startup founders must simply trust in the validity of their business idea, and support and nurture it with whatever resources are available.
For example, Jaime Schmidt, the founder of Schmidt Naturals, began the venture while surviving on $35,000 in joint income with a brand-new baby. She would make her all-natural products at home and sell them at a local farmer's market. As Schmidt reveals: "I grew up with a very frugal mentality and upbringing […] but you also have to be willing to spend money when you're building a business. The trick is in knowing where: where to be frugal and where to be willing to spend."
Within the space of eight years, Jaime Schmidt went on to scale her brand to a nine-figure exit.
Persistence Is Key
Founder of eToro Yoni Assia knows the value of dialogue and brainstorming to develop ideas – and of reaching out tenaciously to those with the resources for funding, connections, advice and opportunities.
After badgering "Sage of Omaha" Warren Buffett for months, Assia eventually secured a dinner appointment, which led to the funding necessary to scale his business to $5.5 million during its first year of operation.
Expect To Fail – But Keep Going
Trial and error is an integral part of the startup evolution process – and founders must be prepared to try, fail, then try something else before they achieve success.
For example, the image resource Shutterstock was the tenth company that founder Jon Oringer formed – finally finding success after nine misses.
Make Sure Your Startup Is a Solution Provider
Customers have issues and needs. As a startup, it's your job to continuously provide appropriate solutions. This can be in the form of a product, a service, or an operating model.
Gail Becker, founder of CAULIPOWER, started as the mother of two boys with celiac disease – a condition that leaves sufferers with an intolerance for gluten. As she observes: "I got really tired and frustrated with seeing what the industry was putting in gluten-free food. I stumbled across cauliflower crust pizza on the internet. I didn't invent it. The day I looked, there were 569,000 recipes. I picked one. I couldn't even tell you which one I picked."
Spotting an obvious gap in the market, Becker quit her corporate job, launched CAULIPOWER, and hit $100 million in sales within three years.
Know Your Customers
As a follow-up to the previous point, you should perform market research, interview consumers, and run surveys. This should all take place with the knowledge that, the better you know and understand your customers, the better equipped you are to give them what they want and need. In a customer-centric market, it doesn't matter what your vision of the product or service may be – what truly matters is what the customer wants.
Georgina Nelson, Founder and CEO of truRating, knows this from first-hand experience. She observes: "The very first thing I did was walk the streets and speak to those people who might buy the truRating product. After we had proven that it was technically possible, I reached out for investment."
Believe In Your Idea – And Be Prepared To Back It Up
If you have faith in your startup idea, you should be prepared to defend it. You should also be prepared to invest in it yourself, and make necessary sacrifices to bring it to fruition.
According to Nathan Chan, founder and CEO of Foundr: "Foundr began because I saw a gap in the market. There wasn't a digital magazine producing content for young aspiring and novice-stage entrepreneurs and startup founders, and I wanted to fill that."
In order to get the venture off the ground, Chan needed some sophisticated publishing software. As he puts it: "I placed $2,000 on the back of my personal card to start the app. This was money I didn't have and also the money I definitely didn't want to waste."
Take That First Step
With so much uncertainty and so much to learn, you may never feel completely ready to launch your startup venture. However, you should quit procrastinating and commit yourself to learning as you go.
Melanie Perkins, Co-Founder and CEO of Canva, takes a pragmatic view: "The best piece of advice I can give is just get started. If I realised how much I would need to know before I started, I probably would have been too terrified to get going."
Within two years of its launch, Canva attracted eight million users, a valuation of $233 million, and the backing of a team of highly influential investors.
Take The Next Step...
To discover more about the B2B resources and expertise available to startup founders at Incisive Edge, get in touch with us.