Need inbound marketing automation tools for your SaaS product that surpasses all the rest and can become your ultimate inbound marketing command centre?

Of course, you do, which is why you've been taking a look at HubSpot – the ultimate inbound marketing tool for companies who need a solution for managing their content marketing, social media marketing, landing pages, web analytics, SEO, and customer engagement and most of their digital marketing.
That's every business in 2016 and beyond, right?

Well, it's certainly every SaaS business.

As a SaaS entrepreneur, you are in possession of a product that's designed for and aimed at an online customer-base.

And since you're targeting online communities, you need to be investing in an online marketing strategy and the right marketing and sales tools.

Today, that means inbound marketing – and good inbound marketing requires the best saas marketing tools.
Check out the following blogs to learn more about Hubspot:
There is of course a plethora of marketing platforms that online companies can choose between. Indeed, many have gone down the route of experimentation, and have ended up trying to integrate a number of them together – one for tracking social media engagement, another for tracking sign-ups and conversion rates, a third for scheduling meetings and calls, a fourth for marketing, and an umpteenth for sales….

It's given us a headache just writing that list – goodness knows what sort of pains are caused by actually trying to cobble together a meaningful marketing solution from all that.
SaaS companies and marketing campaigns require a single platform that handles all their needs (and more). The reason is simple – time is precious for SaaS entrepreneurs, and any time wasted switching between platforms for email marketing and Google analytics to manage marketing, could be better focused on improving the product and winning more subscribers.
So today we want to talk about HubSpot.

HubSpot is an excellent inbound marketing tool for any company with an online presence (again, that's all of them, right?). Though in particular it has built up a reputation for excellence in the SaaS marketing field.

Want to know why?

If you've got 5 minutes, we've got 10 reasons why HubSpot will transform your SaaS marketing efforts into a streamlined, conversion-driving process almost overnight.
1. One Toolbox for All Your Tools
When you need to have 12 tabs open to manage all your third-party marketing apps, another 3 for your most vital social networks, another for your calendar and one for your email…..
Yes, well – the problem is pretty self-explanatory (especially when you may very well be paying a separate subscription fee for all the different software you're using).
HubSpot serves as the comprehensive solution for managing the needs of the SaaS industry, marketing strategies, and search engine optimization. Your website seamlessly integrates with all marketing and communication channels, providing an easy-to-manage portal for streamlining these aspects.
It sounds too good to be true – but it's not, which you will come to realise as you keep reading through this list…
2. A Lead-Generating Machine
What's the ultimate goal of inbound marketing? That's right – to generate more leads.
While many marketing automation platforms offer lead tracking and nurturing features for guiding leads down the sales funnel, HubSpot sets itself apart by integrating ToFu (top of the sales funnel) marketing tools. This distinction empowers SaaS businesses to effectively generate leads in the first place using SaaS marketing strategies. Additionally, HubSpot's integration with search engines further enhances its lead generation capabilities.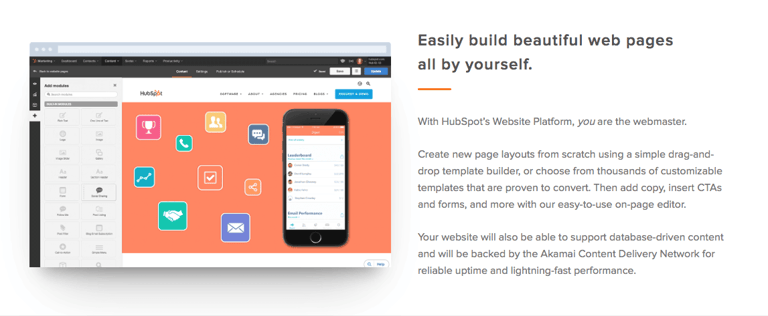 To get the very most out of HubSpot, you can build your entire website using the HubSpot CMS (content management system). This way, you can utilise things like "smart" CTAs (calls-to-action), SEO tools, the HubSpot blogging platform, landing pages and many more to transform your SaaS website into a lead-generating machine.
3. Content Creation and Optimisation Tools
There's no inbound marketing without supreme content. However, content is time-consuming to create, and how can you be sure it's optimised for the best possible results?

Answer: just bash out any old thing and hope for the best….

No, of course not – failure is almost guaranteed that way. HubSpot knows this and wants to help you.

From blogs to landing pages to emails – with HubSpot you can create stunning, visually engaging templates that will help you keep formatting consistent and cut down on the time it takes to craft together your most important inbound marketing materials. All you need to do then is fill the templates with conversion-optimised content, once again using a host of very simple-to-use drag-and-drop-style tools that will continue to speed up your optimised content creation.

Add forms, include CTAs, and even run A/B split tests to improve your open rates and click-throughs. Whatever you need to do to improve your content, HubSpot has a solution.
4. Real-time Analytics Improves Lead Quality and Quantity
HubSpot analytics allow you to see in real-time just how effective each of your marketing tactics are performing.

As you produce optimised content to drive more and more traffic to your SaaS website and blog, you need to be taking steps to convert as many of those anonymous visitors into known leads. To do so, however, you need data.

HubSpot's analytics feature can be used to segment visitors to your site into a number of categories. For instance, if a visitor has read a few of your blogs and viewed your pricing guidelines a number of times, this indicates that they are a marketing qualified lead (MQL).

If they've downloaded one of your eBooks or guides, then they will have provided you with some personal information for the exchange. These visitors would form another segment.

In short, all visitor behaviour can be easily tracked and analysed, and with that data you can then create marketing content specifically designed to target these different segments – and even use HubSpot to help you optimise that content for the best possible results (see point 3).
5. Personalised Content for Every Visitor
Do you currently deliver the same website to every user every time they visit your site?
When dealing with a first-time visitor at the top of the sales funnel, in the investigatory stage, it's essential to offer them information about your SaaS product and company. In this context, presenting a website that easily directs them to this educational content is crucial for effective customer relationship management and optimizing business processes.
A first-time visitor, it's reasonable to assume, will be at the very, very top of the sales funnel – i.e. they are in the investigatory stage. As such, what they will be looking for is information about your SaaS product, and perhaps you as a company as well. So, it would make sense to present them with a website that directs them to this educational information very simply and plainly.

A third-time visitor, by contrast, will be a little further along the decision-making process. They liked what they saw the first time, have gone away to think about it and then come back for more. By now, they will already be familiar with your site and your solution, and so you should present a slightly stronger CTA – focussing their attention on your free-trial, for instance.

HubSpot's new Content Optimisation System enables you to deliver this type of personalised "smart" content for each of your website's visitors.

For example – the first time a visitor comes to this website they are presented with a "default" content view: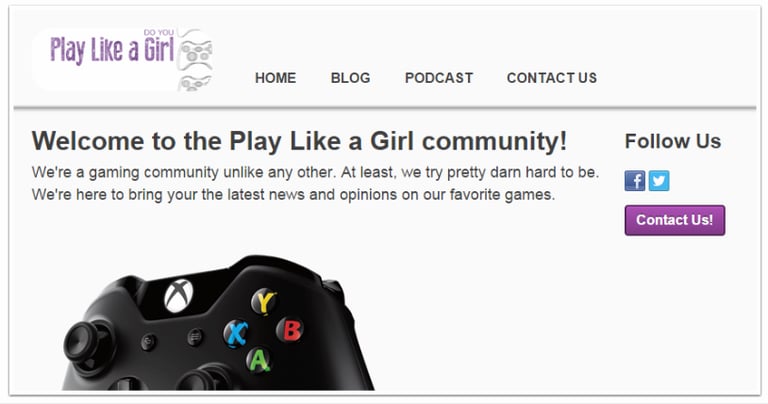 However, for a returning visitor who has previously filled out a form or has already converted into a paying customer, HubSpot will see to it that they are presented with a more personalised greeting: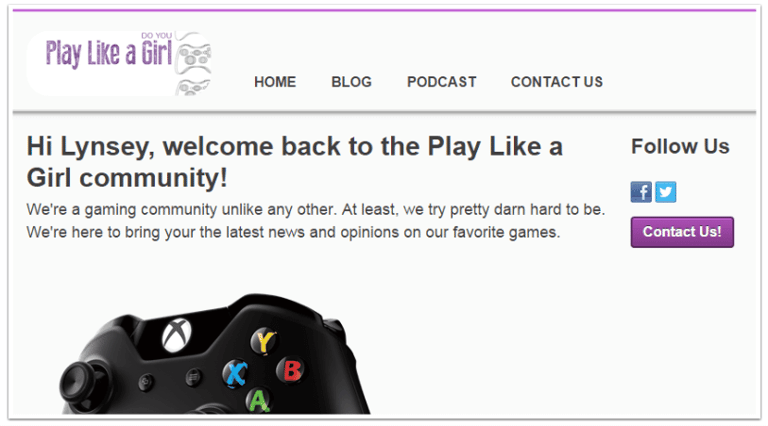 (Image source: knowledge.hubspot.com)
Such a simple touch, but HubSpot's own research has shown that personalised CTAs performed 42% better than generic ones. Amazing.
6. Better Insights for the Sales Team
Generating leads, high-functioning analytics, optimised content – what comes next? Sales, of course.

The insights and intelligence that HubSpot provides for your sales team are quite simply empowering.

Right within the one, single HubSpot dashboard, sales can see exactly where leads have come from, what blog posts they've read, any emails you've sent that have been opened or clicked on, tweets they've shared – you name it! – all in real time.

Armed with this information, sales can then drive towards much more productive conversations with leads, with conversions then only half a step away.
7. Make and Record Calls from Within the HubSpot CRM
With HubSpot, you can make calls to your customers with one click right in your CRM – imagine that!

But, what's more, you also have the option of recording the call. Trying to furiously scribble notes during a sales call whilst simultaneously nurture a business relationship is a skill that not too many people have.

With calls recorded and logged in your CRM, any notes you need to make can be done after you've put the phone down and replay the conversation you've just had. Making life easier – that's the HubSpot way.
8. A Lead-Converting Machine
How can one piece of software be a lead-generating machine and a lead-converting machine all at once?

Well, that's the beauty of HubSpot. The team behind the tool knows that inbound marketing doesn't stop with visitors being attracted to your SaaS website. Indeed, that's only the start of the journey. Masses of visitors mean nothing to your bottom line if no one signs up.

That's why HubSpot has built-in lead nurturing features that help you convert leads into trial users.

For example, HubSpot can be configured to send out automated emails to leads based on their behaviour on your website. For instance, those who have made numerous return visits to your pricing page are surely itching to hit that "Sign Up Now" button – all they need is a little nudge in the right direction. So HubSpot will send an email that you can configure to perhaps offer an extended-period free trial, or even a discount code if that's your chosen tactic.
9. Reduced Development Costs
Let's be clear to be fair – all of the above points are not exclusive to HubSpot per se. As a SaaS entrepreneur, it's likely that you may have some development skills of your own. Not everyone will, of course – many entrepreneurs completely outsource the building of their software, leaving them to be solely devoted to growing their business.

Either way, it is of course possible to utilise development skills – whether they're your skills or someone else's – to integrate automation into your own website. However, this inevitably costs time and money – vital resources of which there is only so much.

What is exclusive to HubSpot is the fact that all these inbound marketing and lead-converting tools and features are already built into the solution, meaning that your in-house development resources can be better spent refining your product into a market-leading solution in its own right.
10. Free Training and Support
As I'm sure you will have already surmised, HubSpot is a rather powerful automation tool, and, as such, there is a learning curve. It's not a particularly steep one – HubSpot is designed to be intuitive – but it's there nonetheless.

As a Saas company, when you sign up with HubSpot, you are joining a committed community of inbound marketers, and indeed buying into the whole inbound marketing methodology that the company prides itself on.

Joining HubSpot for their Saas marketing automation tools will give you access to free training, tutorials and support documents that can be found at the HubSpot Academy. These won't just help you use the software, but support you towards becoming a better inbound marketer from start to finish.