In business to business marketing or B2B marketing, organisations must produce marketing materials and engage in marketing activities that enable them to promote and sell their products or services to other businesses.
To effectively promote your own company in the business to business marketing arena, you must find ways to influence the decision-makers in other businesses who have the final say when it comes to making purchases or entering service contracts. One way to do this is through marketing campaigns, such as examples of influencer marketing, that target these decision-makers directly.
However, a B2B marketing campaign isn't something that you can jump straight into. In order to guarantee long term success for your B2B marketing efforts, you need a marketing strategy or plan. You also need to appreciate the unique requirements of B2B marketing, and the challenges it can pose to your marketing team.
In this article, we'll be looking at the major issues concerning B2B marketing, and suggesting steps that you can take to start and develop a B2B marketing campaign.
The challenges of B2B marketing
Unlike the business-to-consumer or B2C sector, in B2B marketing the ultimate consumer is an organisation, rather than an individual consumer. Small business owners can be key decision-makers in B2B marketing. Any marketing team running an account-based marketing campaign must therefore direct its efforts to sway the opinion of these decision makers in other businesses who have the final say in authorising the purchase of products and services for their own company.
These business-to-business decision-makers may inhabit a number of corporate roles, such as Procurement Officer, Finance Officer, or Head of Purchasing. The marketing strategy for business-to-business marketing teams must therefore involve distinct buyer personas, in line with these roles.
B2B marketing also typically involves a longer sales cycle than marketing to individual consumers, as the approval processes for business buyers may be complex and time-consuming. This sales cycle can become even longer, as business customers must sift through multiple potential suppliers, each of whom is making lofty claims about the nature of their offerings. For this reason, B2B marketing success depends heavily on the brand positioning of your company. With a strong brand that consistently delivers on your brand promise, your organisation will better differentiate itself from the competition.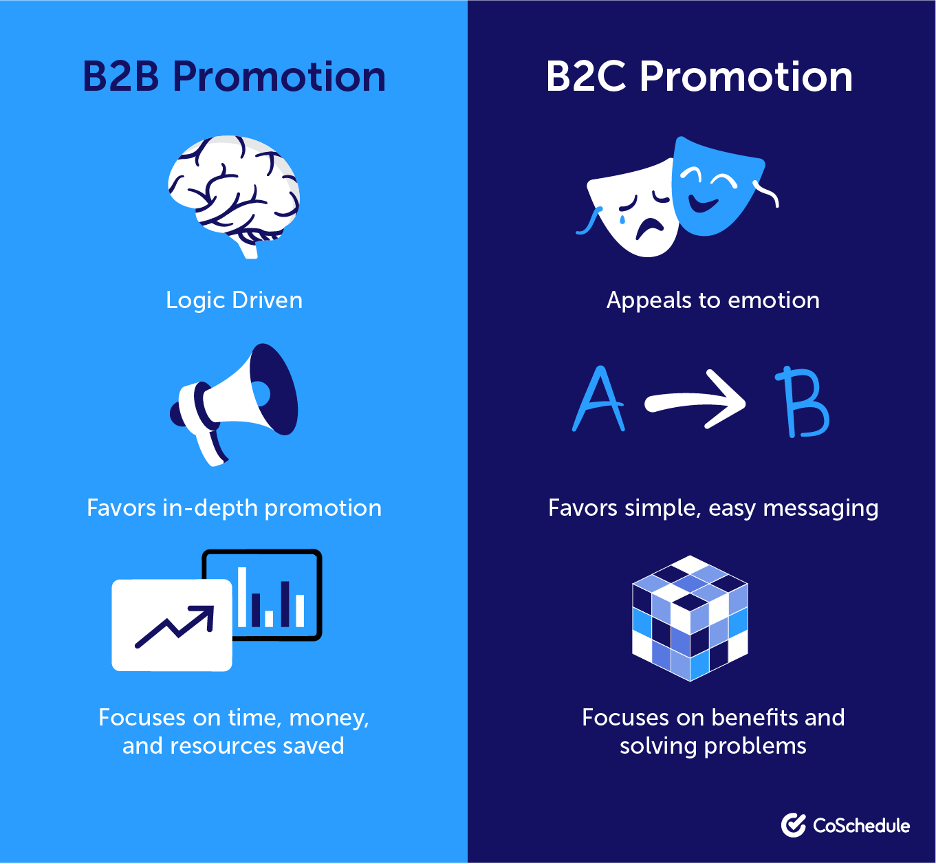 [Image source: Pinterest]
Challenges aside, the B2B marketing realm continues to thrive. Strong brands are important. According to extensive studies by Techtel, there has consistently been a 70% correlation between brand equity and financial performance for technology companies, over the past decade. So, developing a strong brand and launching and sustaining an effective B2B marketing campaign can only benefit your B2B marketing efforts.
Starting a B2B marketing campaign
There are several recommendations you should keep in mind, and options to consider, when starting a B2B marketing campaign. They include:
1. Know your target audience
As we noted previously, it is essential to develop accurate buyer personas for B2B marketing, if you wish to build brand engagement with business decision makers. This will help your marketing team identify the most appropriate marketing channels for reaching out to new customers.
2. Develop relevant content for your target audience
The buyer's journey for business consumers differs from that of the business to consumer market. You need to be aware of this, so you can develop and distribute relevant content to your target audience at each stage of their buyer journey.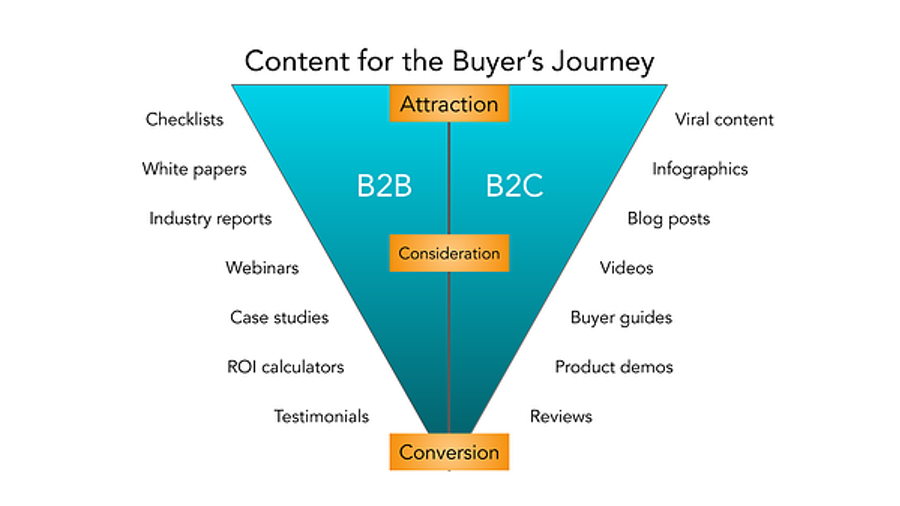 [Image source: HubSpot Blog]
3. Use search engine optimisation (SEO)
Today's business consumers will perform extensive market research online, before seeking business to business suppliers to engage with. Making sure that your offerings are associated with relevant and high-ranking keywords on various search engines is a key aspect of search engine optimization. This gives you an edge in attracting the attention of new customers - along with other tactics like email marketing - and an avenue to create a better understanding of the value your brand can provide to potential business customers.
4. Establish links with key influencers
In the current B2B marketing environment, social media marketing tends to go hand in hand with influencer marketing. For example, you'll often see video content on platforms like LinkedIn featuring the activities of personalities or organisations that have a big following in certain industries or market niches. Your B2B marketing campaign on social media should therefore tap into this trend. To keep costs down, and to extend the outreach of your marketing campaign, look to establish links with influencers having 500,000 followers or less.
5. Monitor the performance of your marketing efforts
To establish the success or otherwise of your B2B marketing campaign, you'll need to identify and track Key Performance Indicators (KPIs) and success metrics. For example, your marketing automation software might score leads based on each engagement that business customers have with your content, and mark them for your sales team as marketing qualified leads, when they reach a certain level.
6. Get specialist help when you need it
As you can see, developing a B2B marketing campaign and putting your B2B marketing strategies into effect involves a number of considerations. B2B marketing also requires a lot of time, dedication, and effort on the part of your marketing team and sales team -- to say nothing of the input of resources involved in producing marketing materials and managing marketing activities like social media marketing, SEO efforts, and monitoring key metrics to measure success.
Marketing automation software can assist to some extent. However, to relieve the pressure on your organisation, you can partner with an agency that specialises in B2B marketing.
Incisive Edge bring you the expertise you need to find your brand differentiation and build the essential foundation for your digital B2B marketing machine. By starting with the things that make your business great for the world, we're able to craft a compelling brand positioning statement and top line message which rolls neatly into more detailed content, and can be applied all the way across your B2B marketing strategies, sales team and sales funnels.
As a business to business brand positioning agency, our workshop process will draw out the things that make your company unique, and pivot towards the most important areas for you as we gain a deep understanding of your business.
If you'd like to learn more about how Incisive Edge can assist you in starting, developing, and running an effective B2B marketing campaign, get in touch with us.