In all sectors of the economy, customers are actively searching the web for solutions to their problems. According to a recent study by GrowthBadger, of the 1.9 billion websites currently online, more than 600 million are devoted to blog content, which is instrumental in enhancing marketing efforts. Within these online platforms, business-to-business interactions also play a crucial role, enabling companies to connect and collaborate. For businesses looking to harness the potential of the digital landscape, a well-structured marketing plan is essential. Notably, platforms like WordPress, one of the most popular blogging platforms, see approximately 70 million new posts each month, underscoring their significance in executing an effective marketing strategy.

Blog content has achieved this level of popularity and use for sound commercial reasons. Among content marketers in the business sector, blog posts continue to be the most popular content format – with business blogging favoured by more than nine out of every ten organisations, according to a recent survey by Semrush. Businesses with a company blog receive 55% more visitors to their website than those that don't have one. Organisations with their own blog can also generate 67% more leads every month.
[Image source: Antevenio.com]
Clearly, there are good incentives for making blog content a key part of your content marketing strategy. In this article, we'll be looking at some strategies and recommendations for organisations selling in the business to business sector to make B2B blogging more effective.
Check out the following articles to learn more about b2b blogging:
How to Boost Your B2B Blogging Success
Blogging can bring more traffic and potential customers to your website as they search for information relevant to the issues they are facing, and to the products and services that your company has to offer. If you regularly publish fresh and relevant content on your site, it becomes a powerful marketing tool, enhancing your presence on various marketing channels. This, in turn, helps drive organic traffic and build a community of engaged followers and brand advocates. What's more, by publishing knowledgeable, engaging, and unique content on your blog page, you can establish yourself as a trusted advisor and thought leader in your industry.
However, achieving all these objectives will take time, effort, and planning. Here are seven key recommendations to help you on your way.
1. Establish Clear Goals
Before you begin typing up your first post, you need an overarching B2B content marketing strategy. At the macro level, this is a plan outlining what you hope to gain from your blog. This might include objectives such as attracting qualified leads and organic traffic, delivering value to your target customers, or achieving specific inbound marketing and business goals.
From an implementation standpoint, your strategy will help define key processes, such as the development of your content brief, the keyword research you'll have to conduct, the configuration of your content calendar, your publishing frequency, the publishing formats that you'll use, your search engine optimisation (SEO) strategy, and other activities.
Drilling down to the level of each blog post, awareness of your goals helps in defining the message and information that you need to communicate before drafting the actual content.
2. Know Your Target Audience
Particularly in B2B blogging, it's important to address the specific needs of your business audience. To do this effectively, you'll need to define your audience segments and develop tailored content and blog strategies that cater to their interests and pain points. Furthermore, it's essential to create a well-defined blog strategy for each type of buyer within your target audience. This approach requires a deep understanding of who they are, what challenges they encounter, and what they seek from the products and services they use. You should also consider who they report to, as this can influence their decision-making when authorizing purchases.
In order to create blog content that gives value to these potential customers, it's also important to be aware of what questions they are asking, what kind of language they use, and the stage of the buyer's journey they are currently at.
To fully address all their needs, there should be a variety of content on your site. In this way, you can provide the information and guidance your audience needs at the awareness, consideration, and decision stages of the customer journey.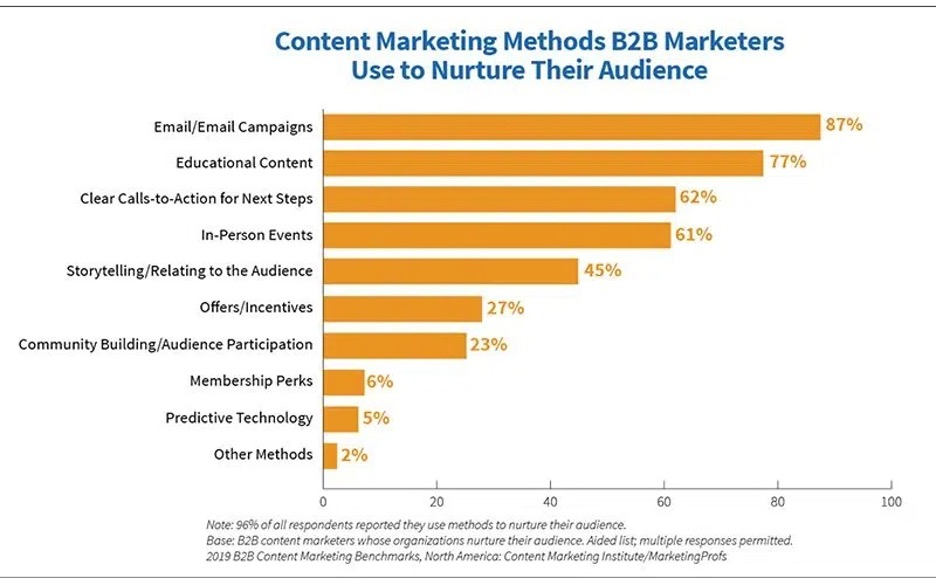 [Image source: SlideShare]
3. Assess Your Existing Content
Unless you have yet to create your first blog post, it's likely that you'll have an existing library of B2B blogging content. Study this inventory to determine whether each piece of content aligns with your business objectives and provides value to your prospective customers. Furthermore, analyze whether the blog title and relevant keywords are effectively optimized to enhance visibility and engagement. Identify any key areas within your content strategy that have not been covered.
With this knowledge, you can determine whether to update existing material, combine pieces of content into higher value offerings, or delete any blog post that no longer supports your goals.
4. Consider Search Engine Optimisation (SEO)
Do research into your target personas to determine which search engines they routinely use, and a keyword research tool to find the target keywords they're using at each stage of the customer journey. This will help you create a list of the topics and keywords to focus on for each blog post, improve your on page SEO, and write a relevant meta description for each post that entices users to click on the page.
5. Develop a Repeatable B2B Blogging Process
This should include clear steps that proceed from initial brainstorming to blog content creation, editing, publishing, promotion, and measurement of key performance indicators (KPIs) relevant to your B2B blogging programme.
6. Promote Your Blog Content
Consistently promoting your blog content helps to expand your reach, build brand awareness and brand differentiation, and drive organic traffic. You might, for example, use your social media presence to share selected blog posts based on targeted keywords, or keywords related to ongoing trends and discussions. If you have a newsletter subscription or mailing list, you can email a link to your blog posts, or include links to your latest blog post in your employee email signatures.
7. Measure Your Progress
Monitor and measure the success of your B2B blogging efforts, using KPIs and metrics in line with your key marketing objectives and blogging strategy goals. This can help you create better content in the future, and optimise your existing blog content so that it resonates better with your target audience.
Final Thoughts
For any or all of the above, you may need specialist assistance. In this case, you can turn to a professional content marketing agency for help.
The best brands combine their brand positioning, company website and digital marketing execution to build an emotional connection and create a smooth customer experience with their target audiences. Incisive Edge brings you the expertise you need to find your brand differentiation and build the essential foundation for your digital marketing machine.
We will work with you to define detailed buyer personas for your target companies' decision makers. We will craft a value proposition that emphasises why you are unique and the value you provide your target market.
To find out more about how Incisive Edge can help boost your B2B blogging efforts, get in touch with us.